Mon, 22 August 2022 at 12:52 pm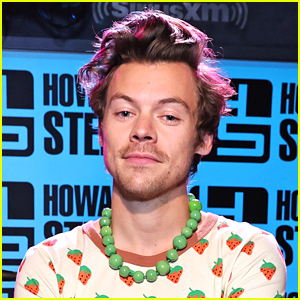 Harry Styles is speaking out about being accused of queerbaiting.
The 28-year-old entertainer has not explicitly talked about his sexuality or how he identifies publicly, and is often faced with criticism of queerbaiting or profiting off of queer aesthetics.
In a new interview with Rolling Stone, Harry talked about how silly he finds some of the comments and arguments.
See what he said inside…
"Sometimes people say, 'You've only publicly been with women,' and I don't think I've publicly been with anyone," Harry told the mag in his cover feature. "If someone takes a picture of you with someone, it doesn't mean you're choosing to have a public relationship or something."
He also opened up about the negative comments on social media and the "sh-tstorm of people trying to be awful to people," of which he calls Twitter.
"That obviously doesn't make me feel good," he said.
Harry mentions how it's made it to where he has to have a conversation with people early on in a relationship.
"Can you imagine going on a second date with someone and being like, 'OK, there's this corner of the thing, and they're going to say this, and it's going to be really crazy, and they're going to be really mean, and it's not real.… But anyway, what do you want to eat?'" he told Rolling Stone.
"It's obviously a difficult feeling to feel like being close to me means you're at the ransom of a corner of Twitter or something," he said. "I just wanted to sing. I didn't want to get into it if I was going to hurt people like that."
Harry has even gone on to talk about keeping his private life private.
"I've never talked about my life away from work publicly and found that it's benefited me positively," he says. "There's always going to be a version of a narrative, and I think I just decided I wasn't going to spend the time trying to correct it or redirect it in some way."
Speaking of, Harry was recently seen out for dinner with girlfriend Olivia Wilde in NYC. Check out the pics!
Like Just Jared Jr. on FB