Wed, 24 August 2022 at 3:38 pm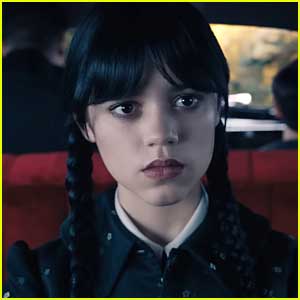 Jenna Ortega is opening up about taking on the iconic role of Wednesday Addams!
The 19-year-old actress will be portraying the Addams Family character in the upcoming Netflix series Wednesday.
In a new featurette, Jenna dished on bringing her to life, and wanting to do justice by Wednesday. Director Tim Burton, showrunners Alfred Gough and Miles Millar, as well as some of her co-stars also talked about her delivery.
Click inside for more…
"It was really important to me that I did something different, even though she's been done so flawlessly in the past," Jenna says. "She's a bit more socially awkward. There's a confidence there but it's more concealed."
"Wednesday is technically a Latina character and that's never been represented. So for me, any time that I have an opportunity to represent my community, I want that to be seen," she adds.
Jenna then adds that she was nervous and just wanted to do it right, and did a lot of prep for the role.
"I honestly was so nervous to do this part because I just want to do her justice," she said. "I went to fencing lessons twice a week. I went to cello lessons twice a week. A big part of it, too, was just physicality. I would walk like Wednesday and I think that people thought I might have been kind of crazy because I wanted her to be specific, and certain, and assertive."
"She's like a silent movie actress in a sense where she's able to convey things without words, and to see the inner life and the subtleties was very exciting," Tim Burton said. "And that's why we're very lucky to have Jenna, because I can't imagine any other Wednesday."
Check out the full featurette here…
Be sure to check out the recently released teaser trailer!
Like Just Jared Jr. on FB