Tue, 30 August 2022 at 1:58 pm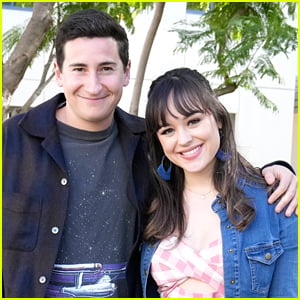 Erica and Geoff are welcoming a baby in the upcoming 10th season of The Goldbergs!
If you remember, the on screen couple, played by Hayley Orrantia and Sam Lerner, got married in the previous season with the pregnancy announcement revealed in the finale.
Now, we're learning more about the upcoming season.
Find out more inside…
Welcoming a new addition to the family comes with mixed feelings, as they will also be mourning the loss of family patriarch Murray, who will have died before the season starts, according to EW.
Murray's Jeff Garlin left the show last season following accusations of his unprofessional behavior on set.
"This is going to be a family that has not reconciled the fact that their father's gone but has sort of moved on and has dealt with a lot of that," co-showrunner Alex Barnow shared with EW. "So we're starting with optimism about a baby coming and looking forward to the future. It's an opportunity for this interesting emotional basis for the way people are behaving."
Co-showrunner Chris Bishop added that "It honestly feels like a huge reboot for us. So we have tons of momentum rolling into this new season."
In the new season, Geoff and Erica movie back in at home to save money and get help when the baby arrives.
"Beverly's (Wendi McLendon-Covey) going to be that overbearing smother turned into an overbearing grandsmother," Chris said.
"The baby will be coming around the fifth episode, and so we have a lot of fun on the side of the preparation and birthing classes and with the doctor and all those things," Alex revealed about when the baby comes. "And then on the other side, when the baby gets here, [Erica and Geoff] can't get their hands on the baby often. So it's been a good development story-wise for us."
"We have them butting heads a lot, and we have a great Hanukkah episode coming up where Bev will hope for how you raise your children [is] how you assume they'll raise their children," Alex added. "There's lots of tension between Beverly and Erica this season, which is great for story for us. So we're very happy with that."
The Goldbergs season ten premieres Wednesday, September 21st at 8:30pm ET/PT on ABC.
Like Just Jared Jr. on FB