Thu, 01 September 2022 at 7:41 pm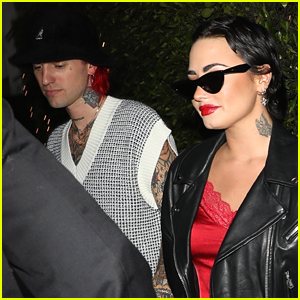 Demi Lovato is super happy in her relationship with boyfriend Jutes.
The couple were confirmed to be an item last month, and now a source is speaking out about the pair.
While Demi and Jutes, whose real name is Jordan Lutes, are both musicians, the source notes that they actually have a lot in common, including that they're both on sobriety journeys.
If you didn't know, Jutes has writing credits on three songs on Demi's new album Holy Fvck – "Substance," "Happy Ending" and "City of Angels."
Find out more inside…
"Demi feels happy and fulfilled right now," the insider told People. "Life is good. [Jutes'] encouragement and respect have helped her immensely."
"They joke, laugh, talk about their mutual personal problems, and what they overcame as young people in the music business," they added. "He is in awe of her talent and very supportive."
Just last month, Jutes shared a long post on Instagram for Demi's 30th birthday, saying he's "the luckiest schmuck in the world cuz i get to call u mine. making u laugh has become my new obsession cuz ur smile literally cures my depression (there's a song lyric in there somewhere). i'm so proud of u for not only surviving everything you've been through but coming out on top and becoming ur healthiest happiest sweetest self."
"i'm just here to support u and tell stupid dad jokes when needed. ur more than ur music, more than ur voice, more than a beautiful face. ur everything. i love u 😘🫠🐞🥳😍," he added. "how are u real lol"
Demi commented, "YOURE THE BEST BOYFRIEND IN THE WORLD 😭😩 I'm just so grateful I get to call you mine because I've never laughed like this in my life, I've never smiled so much and my heart is constantly so full of love w you 💕💕 this post, this caption… how are YOU real?! I love you honey.. so much 🥰🥰😁🫠🐞😍"
If you missed it, Demi and Jutes were last seen leaving her birthday party, which is what is pictured here.
Demi is currently on tour in South America for their Holy Fvck Tour, her first tour in four years. Check out the set list!
Like Just Jared Jr. on FB