Tue, 06 September 2022 at 1:00 pm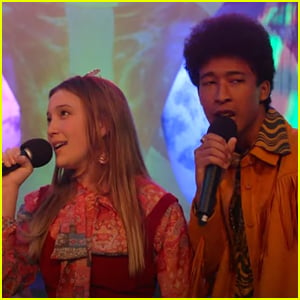 Series newcomers Saylor Bell and Adrian Lyles are belting out a duet in this week's new episode of High School Musical: The Musical: The Series!
The two play siblings Maddox and Jet in the third season, and we have an exclusive sneak peek at them performing "Wouldn't Change a Thing" from Camp Rock 2: The Final Jam.
Click inside to watch and see exclusive quotes…
"'Wouldn't Change A Thing' was such a special song and came at an important time in the series. It shows the growth in the relationship between Jet and Maddox. Not only is it relatable to their relationship within series but it also speaks to real life," Adrian shared with us. "They have been through so many ups and downs, but everything that they have been through has brought them to a much stronger relationship. The song, 'Wouldn't Change A Thing' illustrates that beautifully and really proves that things are getting better these siblings.
Saylor added, "While I was thrilled with the opportunity to perform the iconic Camp Rock song with a sibling twist, this whole episode brought Maddox so many special moments that I hope everyone can connect with from sibling relationships to romantic relationships to finding that friend group where you finally experience the sense of belonging we all seek."
She also teased another special moment in the episode…
"There's a special climbing wall moment where Maddox finds her people that really hit me hard, and I hope fans will enjoy," Saylor told JJJ.
In the episode, "Camp Prom," with Frozen opening night just around the corner, the Wildcats glam it up for one final summer fling: a 70's-themed camp prom. But when Gina reaches her breaking point – and Kourtney, Carlos, Jet and Maddox achieve breakthroughs of their own – this throwback night becomes an unexpected night for Ricky to make a move.
This week's episode also features the return of Joe Serafini's Seb, as well as JoJo Siwa, who we learned plays Maddox's ex girlfriend from Camp Shallow Lake.
Tune in to an all new episode of HSMTMTS TONIGHT (September 7) at 12am PT on Disney+!
Like Just Jared Jr. on FB