Thu, 29 September 2022 at 6:26 pm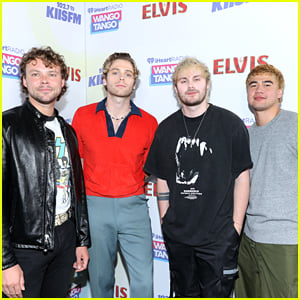 5 Seconds of Summer's fifth studio album 5SOS5 has been out for nearly a week now, but you may be surprised to know it wasn't planned!
Michael Clifford revealed in a new interview that this is the first album they didn't actually plan to make it.
Find out what he said inside…
"I think this album for us has been the first album that we've made without having any kind of… We didn't plan to make it," Michael shared with Zane Lowe on Apple Music 1. "Whereas our albums in the past, we've always sort of set aside time like, 'Okay, so we're going to start an album here and there.'"
"Whereas this one, it just happened, and we all of a sudden left. And we were like, 'Oh crap. We just started the fifth album,'" he continued. "And I think with that, our friendship just grew to its… I thought we were already as close as we could get, until we made this record, and now I feel like it's as close as we can get."
Luke Hemmings also noted how they just keep getting better with each album.
"I think, particularly on this album, we've been… I say it all the time, but we started with very simple goals. Sound great, love, write the best songs we can, and… What was the other one? And be kind," he shared. "We started with very simple goals and we try and just keep doing that, and try and become better songwriters. And hopefully we're one of those artists or bands that can, I don't know, get better with every album."
"Every single time we make an album, it's based around our intentions that we philosophize. Are we being truthful in our lives? Or what are our relationships with ourselves in the world, and what we do? And how can we put intention and purpose, so people understand themselves through our music, like we're trying to do by the expression?" Luke said. "So, we really magnetize the season that we're in. We don't look to be in the past, or the future. We really do enjoy the wave that we're on. And you hear a lot of that in our new stuff."
ICYMI: Luke recently opened up about wedding plans with fiancée Sierra Deaton, who's also featured on the album.
Check out 5SOS5 below…
Like Just Jared Jr. on FB