Wed, 11 January 2023 at 1:09 pm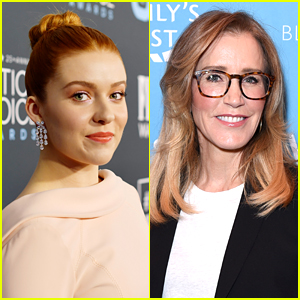 Kennedy McMann has an exciting new role – as a lawyer!
The 26-year-old Nancy Drew star has been cast to lead an inevitable new series The Good Lawyer, a spinoff from the hit ABC series The Good Doctor.
Click inside to find out more…
ABC has ordered an "embedded pilot" episode, which is essentially a backdoor pilot, that will air during The Good Doctor this spring.
In the episode, Freddie Highmore's Dr. Shaun Murphy seeks legal representation to help him win a case and puts his faith in a promising, young lawyer who has obsessive compulsive disorder.
Kennedy will be portraying Joni DeGroot, the brilliant, funny and self-aware lawyer who is relatively new to her prestigious law firm when she takes Shaun's case. Living with OCD, Joni has never wanted to be treated differently. While her symptoms take a toll on her personal and professional life, her attention to detail allows her to see cases through a different lens.
Also starring in the pilot episode and spinoff series is Felicity Huffman, who will play Janet Stewart, a highly regarded attorney and partner at the law firm with a fierce intellect and dry wit. A seasoned veteran, Janet has represented Dr. Aaron Glassman in several legal matters over the years, so he turns to her to represent his beloved protégé. But when Shaun declares that he wants Joni to represent him, Janet is forced to let Joni take lead on the case.
The embedded pilot will air on March 6th.
"THE DREAMIEST DREAM COME TRUE!!!!! I could say a million things. thank you to my incredible team. thank you to my parents & my husband who have been by side through my lifelong journey with OCD. thank you to all of you who have made me feel safe enough to talk openly about it. to be working on a project like this, to be a part of a representation of OCD in media that is genuine & true, is all I have ever wanted & more than I could have ever hoped for. to do it with this team is even better. x," Kennedy excitedly shared on Instagram of the news.
If you didn't know, last fall it was announced that Kennedy's current The CW series Nancy Drew will be coming to an end after the upcoming fourth season. It is one of many CW shows that met their unfortunate fate in 2022.
The final season of Nancy Drew is slated to premiere this year, though no date has been set at this time.
Congratulations Kennedy!!!
Like Just Jared Jr. on FB