Mon, 06 February 2023 at 7:44 pm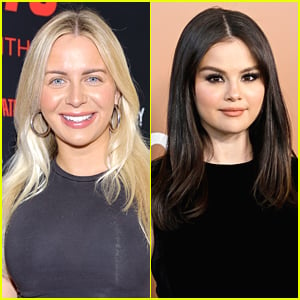 Raquelle Stevens faced a lot of backlash over her friendship with Selena Gomez and is now speaking out.
The longtime bestie of the 30-year-old entertainer has been a staple on Selena + Chef and was featured in the My Mind & Me documentary.
Following the Apple TV+ doc, fans flooded social media criticizing Raquelle and how she treated Selena throughout the years seen in the documentary.
While recently promoting her new book "The Sunshine Mind: 100 Days to Finding the Hope and Joy You Want" with Tanya Rad, Raquelle spoke out regarding the backlash.
Keep reading to see how she responded…
"Here's the thing. I know anytime you do anything public in life, right, you're subject to opinions of other people. You just don't even go there if you're not willing to be able to take the heat," Raquelle shared on the Chicks in the Office podcast. "The biggest thing for me was that the documentary was a beautiful, beautiful piece of work that Selena so vulnerably shared with the world. It was her life story and part of what was included in that documentary was our friendship, which is special, and it's honest, and it's real."
"I think what it's a good reminder of is that when people are scrolling through Instagram or they're scrolling through TikTok, or you're watching a documentary, you're getting a small glimpse into someone's life, you're not seeing the full picture," she continued. "And the truth is we've had a friendship for the last decade because it's real, it's honest and I'm so grateful for that. And I'm grateful that it was included in the documentary because I think that it is important to see, and I think it's amazing that Selena welcomes honesty in her friendships and I welcome that in my life too."
Tanya also noted that Raquelle "knows who she is. She knows what type of friend she is."
"That's the other thing too. And I think this is important for people as well when we talk about, you know, doing the 100 day journey, strengthening your inner life," Raquelle added. "When your inner life is strong and you are living a life with integrity, you sleep peacefully every single night. And it doesn't matter what you face, what you go through — there's a peace that comes with living a life of integrity, and so I really am secure in who I am. I know the kind of friend that I am. Anyone really could say anything, but I have a peace that is unshakable."
Selena actually wrote the foreword for "The Sunshine Mind," which is out now. She also praised Raquelle on Instagram after it's release.
"This woman has changed my life and now her words can be shared with the world and hopefully help others! Along side the sweetest @tanyarad ! SO proud of you @raquellestevens -you are my forever therapist, friend and family. Love you angel," she wrote.
Like Just Jared Jr. on FB