Wed, 26 August 2015 at 1:30 pm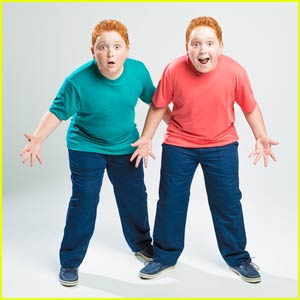 Check out this brand new interview with the super talented duo of Benjamin and Matthew Royer!
The twins play on-screen brothers Brett and Chet in our favorite new Disney Channel show – Best Friends Whenever!
In case you're not familiar, the show follows teenagers Shelby (Lauren Taylor) and Cyd (Landry Bender), who when a science experiment goes wrong, become unstuck in time leaping forward and backward in time.
We caught up with Benjamin and Matthew about what we can expect coming up!
"Let's just say Brett and Chet get into a lot more mischief," Matthew said.
Ben added, "Lots of crazy things get revealed in the next few episodes. Stay tuned!"
Check out the rest of our interview below! And be sure to tune into Best Friends Whenever on Sundays @ 8:30PM on Disney Channel!
JJJ: How did you land your role? What was your audition process like?
Matthew: We went through the traditional audition process. We had a first audition with the casting director, then a call back with producers, and eventually a test with Lauren Taylor and Landry Bender.
Benjamin: Once we had already been cast, we were told that the producers had seen us prior to auditioning. We were walking out of the Starbucks downstairs in the Disney Channel building. We were there auditioning for another Disney project. They went upstairs to see what we auditioned for. They thought we would be good for the roles. I guess we did well because they chose us.
Click inside to read the rest of our interview with the Royer twins…
JustJaredJr.com Interview – Benjamin & Matthew Royer
JJJ: Your characters Bret and Chet play the silly, at times mischievous, twin brothers. Are you similar to Bret and Chet?
Matthew: My brother and I aren't really similar to Brett and Chet. Well, unless you count that we are twins. Some say we are pretty funny though.
Benjamin: Matthew and I are not mischievous. We like to joke around but we aren't troublemakers.
JJJ: Sometimes there is some brotherly competition between Bret and Chet. Does this happen between the two of you in real life?
Matthew: Yes, Benjamin and I sometimes have a little brotherly competition. It's never about anything too serious though.
Benjamin: I am probably a little more competitive than Matthew. We mostly challenge each other over sports facts.
JJJ: Do you have a favorite memory filming? Or with the cast and/or crew?
Matthew: I really enjoyed filming the last scene of the episode, "A Time to Say Thank You". Benjamin and I were in chef outfits and making a huge mess in the kitchen. They even created an original song to play called, "Baking with my Brother."
Benjamin: I really enjoyed watching our first episode with our cast and crew. We had a party in the production office and it was nice to see our hard work on the screen.
JJJ: How can your fans follow you?
@thematthewroyer for Instagram and Twitter
@thebenroyer for Instagram and Twitter
You can also like our fan page on Facebook – Benjamin and Matthew Royer.
Like Just Jared Jr. on FB