Sun, 22 January 2017 at 5:59 pm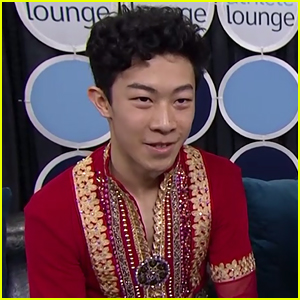 Congrats to Nathan Chen — the new Men's US National Champion!
The 17-year-old shattered records while going to the top of the leaderboard, earning 318.47 points total for both of his short and long programs over the weekend at the 2017 U.S. Figure Skating Championships.
He performed FIVE quadruple jumps in his long program! A first ever!
Nathan is being name dropped all over as the skater who will be changing the face of men's figure skating.
"That's what I've strived for my whole life," Nathan shared ahead of the long program about earning the title of champion. "I don't think it's necessarily something I should be afraid of."
He adds, "It's something I've wanted my whole life. It's definitely a good step for me and I'm really happy to be where I am tonight and hopefully to continue with this in the free skate."
Vincent Zhou, Jason Brown, Grant Hochstein and Ross Miner followed behind Nathan on the leaderboard.
Learn more about Nathan right now! Check out 10 Fun Facts inside right now along with his performance!
Although they share the same last name, Nathan is not related to ladies champion Karen Chen
Nathan is trained in ballet
He's the youngest novice champion ever in the history of US Figure Skating
Just after earning the bronze at the 2016 US Championships, Nathan broke his left hip while attempting a jump during exhibitions on the same day. He underwent surgery later that month.
He shares the same coach as Ashley Wagner and Mariah Bell — Rafael Arutyunyan
He completely demolished the short program record at the US Championships and is the top US scorer at international figure skating competitions
He is the only skater in the world capable of landing both the quad lutz and quad flip jumps in competitions
Nathan is the youngest U.S. male skater to qualify for and medal at the Grand Prix of Figure Skating Final
Nathan is really good friends with Ice Dance champs Maia and Alex Shibutani

Nathan CHEN Free Skate US Nationals 2017
Like Just Jared Jr. on FB