Mon, 13 March 2017 at 2:05 pm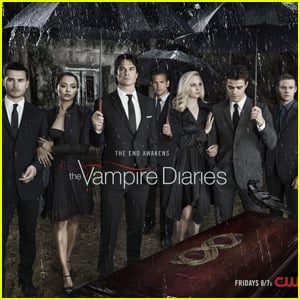 If you're still upset over that shocking death during The Vampire Diaries finale, this may ease some of your pain.
Executive producer Kevin Williamson explains that the writers talked about a lot of different scenarios before deciding – SPOILER ALERT! – Stefan (Paul Wesley) was the one who had to die.
"Oh, everyone was supposed to die. There were so many conversations in the writers' room," Kevin told TVGuide.com. "Everyone had these great ideas. I'm only sad that we couldn't put everything in there because it was only 42.5 minutes. But there were so many possibilities. It was very important for us not to kill Bonnie (Kat Graham). Bonnie should not have to die for Elena's happiness. It was this conversation of, 'Oh, Bonnie can go be with Enzo (Michael Malarkey) because that's exactly what she would want.' Like, no. That's not what Enzo would want. Bonnie needs a full, rich life. She needs a happy ending. So that was important to us, so we couldn't kill Bonnie."
"And we can't kill [Matt, Zach Roerig], because if he's lived this long as a human, he needs to continue on," Kevin explained. "If we were going to kill him, it had to have been in Season 4. You can't do it in Season 8. It was really between Damon (Ian Somerhalder) and Stefan. You know, we got rid of Katherine. We killed Katherine. We knew we were going to take her out. There was a conversation that Damon and Stefan both died. And then there was a conversation that it just ended with Damon killing Katherine and saving the town and saving everyone. For me, where the story was when I came in and got involved, Stefan had just been the Ripper for a long period of time and killed Enzo. And the only way for him to come back from that, I felt, was to kill him. That's why he had to die."
TELL JJJ: What did you think of Stefan dying on TVD?
In case you missed it, this is who Elena was originally supposed to end up with!
Like Just Jared Jr. on FB