Tue, 11 April 2017 at 10:35 pm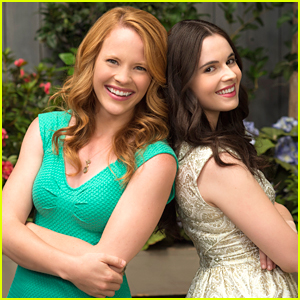 SPOILERS AHEAD! DO NOT READ IF YOU HAVE NOT WATCHED!
The Switched at Birth series finale just aired and JJJ said a tearful goodbye to the groundbreaking show.
In the final episode, you'll see just about everything and Bemmett shippers have a special something coming!
Remember, DO NOT click inside if you have not watched the series finale!
But if you do want to find out, have those tissues handy!
(Click inside to see what happened on the series finale of Switched at Birth…)
– We start with a flashback to Regina and Kathryn five years ago when Regina moved into the guest house
– In the present, Regina and Kathryn reminisce about the five years that have passed and how far they've come.
– Regina tells Kathryn that she's decided to move out of the guest house and get her own place. This will give Toby and Lily a chance to have their true own place with baby Carlton.
– Kathryn and John start plans to have a family dinner later that week with a comet passing over.
– Kathryn also asks John about the genetics information and where they stored it. She has plans to make a scrapbook of all of it.
– Bay and Travis join them out on the patio with Bay announcing big news that she'll be featured in the 100th issue of Live Ink magazine. She's obviously very excited about it, however, dad John still isn't that impressed about her line of work.
– While hurt, Bay brushes it off and tells them that she "swung a plus 8″ to the launch party for the magazine.
– While Bay and Kathryn go look for Bay's original science experiment, John and Travis talk about his offer to play professional baseball in Tokyo. He's decided to take the offer, but he hasn't old Bay just yet.
– On campus, Daphne and Iris are talking about a lecture that Daphne is planning on attending when they run into Mingo. He apologizes to Iris about everything that's happened.
– After Iris leaves to meet with Keeshawn, Mingo tells Daphne about the same lecture she was just talking about and plans to go as well. He tells her that he'd like to eventually be an athletic trainer.
– Toby arrives back at home later than expected and while talking to Lily before she goes to work, he tells her that the DJ business isn't as fun as it once was. She reassures him that they'll figure it all out if he does want a career change.
– Regina and Luca are at the Cracked Mug and she's looking at new places to live when he tells her that they should move in together. This comes a complete surprise to her and she's hesitant about answering — especially when she suddenly thinks of her hook up with Eric. However, she says yes out of panic.
– Bay gets advice from Noelle about her career as a tattoo artist. Noelle tells her that she'll be inching along for years unless she inks a celebrity — like Jordan DeVille, who will be at the magazine's party.
– At the lecture, Daphne and Mingo get the news about a paid internship, which they obviously both want.
– Regina reveals to Melody that she met with Eric and although she wanted to sleep with him, she didn't. She also reveals that she thinks she's still in love with him and he wants her to come on the run with him and his son Will.
– Melody tells her to think everything over twice before the news slips out that she got the position of Dean of Student Affairs at Gallaudet University in D.C.
– Daphne and Iris go over some pre-interview points together before her actual interview when Mingo comes out of the office from his own. He wishes her luck on hers.
– Bay catches up with Emmett before the party, while looking at the spread in the magazine. She asks him about his plans for USC in the fall, however, he's decided not to go back and head to D.C. with mom Melody instead.
– She also asks about his relationship with Travis and if it's any better. Emmett tells her that they're trying, but that's as far as it goes so far. Bay says she still hopes the two can connect with Travis' school ending soon for the summer.
– While Kathryn is going through the garage and finds the genetic documents, she also finds another test that she had no clue about. John sought out another DNA test with him and Bay which he didn't tell her about. John might've known about the switch before Bay.
– In Daphne's interview, Dr. Bannon shows great prestigious towards Daphne being deaf and tells her that she can't have the internship because of that. He doesn't even give her a chance and says the interview is over before it even starts.
– At the party, Daphne runs into Emmett and share a cute reminiscent moment before Bay and Travis meet up with them. Travis and Emmett are very silent and you can see the awkwardness. Bay wonders about Daphne if she's okay for the party because of her crappy interview.
– Luca, Regina, John and Kathryn all arrive at the party together and when Luca offers to host the first game night, Regina cuts that conversation off since she's still having jitters about it all.
– Kathryn tries to talk to John about the switch again and he avoids it, acting really happy when he sees Bay and Daphne.
– John asks Daphne about her interview, not really paying attention to Bay's point about the art at the party. Even though Daphne lies about her interview, John praises her and can't wait to see the MD after her name. Bay is visibly upset by this.
– Travis tells Melody about his decision to go to Japan for pro baseball and thanks her for what she's done for him.
– Melody also runs into Natalie at the party, who gives her an update on Matthew, who was kicked out of his home after his mom caught up on a date with a guy.
– Bay gripes about John's attitude about her work with Daphne and Toby. The three reminisce about all the "bad" things they've done.
– Bay slips into the VIP area after spotting Jordan DeVille at the party and tries to talk to her about a new tattoo. Jordan kind of brushes her off before Noelle arrives and tells Jordan that Bay is super talented and she probably couldn't get an appointment with her in a year because she'll be all booked up.
– Regina comes clean with Luca about moving in together, and Luca tells her to stop second guessing their relationship. However, she tells him that she's still in love with someone else — Eric. Luca, of course, storms out.
– Daphne asks Kathryn about when they first met and her pre-conceptions about deaf culture. Kathryn admits to her that she was a little scared about it at first. Daphne doesn't tell her about the interview but is having doubts about her MD status. She cites that there are so many modifications she'd have to make and Kathryn tells her that if she truly wants to be a doctor, she'll have to be resourceful and knows that she'll think of ways to make it happen.
– At his interview, Toby gets the details about the DJ position he's applying for, but is a bit distracted by an adult with Down Syndrome in the diner. He's especially drawn to him because the manager is being rude and asking Harrison to leave while he was watching his tablet.
– Toby intervenes, halting his interview, and talks to Harrison to stop a fight from breaking out.
– Bay and John get into a big fight at the party about him not understanding why she's in this line of work. She argues that she's not like him and brings up that he was more proud of Daphne. During the fight, Bay brings up Travis and baseball and John lets it slip that he's going to Japan.
– Bay talks to Travis about the pro team outside the party and he says he wants her to come with him, but he knows it's a big ask. Bay says that maybe she can get a chair in Tokyo before hearing that it's a travelling team.
– "I want to be with you forever, but I can't turn this down," Travis tells her.
– Back at Toby's interview, he's still keeping Harrison company when his caretaker/roommate Nina arrives and he's surprised that she also has Down Syndrome.
– Still at the party, Regina reveals to Daphne that she broke up with Luca. They take a ride back to the home that Daphne grew up in and remember all the good and bad things that happened.
– Kathryn asks John about the other DNA test that she found in the garage and he admits that he did take one right after Bay did her science experiment.
– Now back at the house, Kathryn gives Bay some advice about what to do with Travis before going back to the garage and finding some old pictures in the genetics box. She goes to find John after that.
– "You thought I had cheated on you and you didn't leave," she says. "You're my family…Bay might not be my child, but she is my child."
– The next day Melody and Natalie go out and search for Matthew and find him living on the streets. Melody asks him to come back with her.
– Talking with Lily, Toby tells her about meeting Harrison and Nina and says that's what he wants to do — be an advocate and educator about people with Down Syndrome.
– After talking with Emmett the night before, Bay talks with Travis and tells him that Emmett wants to go with him. Travis assumes it will be the three of them, but it's just the two. Bay wants to stay in Kansas City.
– So what happens to Travis and Bay? They stay together, just long distance. Bay says that they both have to do what's best for themselves right now. She'll spend Thanksgiving in Tokyo and every time they talk on the phone, she'll be wondering when she can call him again. "We're real," she tells him.
– Daphne, with Iris by her side, goes back to Dr. Bannon's office and she recites the Disability Act word for word. She gives him a speech that is so inspiring about not letting her disability be the reason she doesn't succeed in life.
– Regina goes to Eric's hotel room and tells him that while she can't go on the run with him, she did speak with a lawyer about the situation. She will take care of Will while Eric will serve only two to three years in prison.
– Melody and Gabe decide not to go to D.C. and decide to stay, offering Matthew a place to live with them while he gets back on his feet.
– Daphne and Mingo talk about her horrible interview and while he got the job, he doesn't want to take it because of what happened to her.
– Daphne insists he still take it, regardless if the doctor is a jerk, because Mingo could learn so much and maybe teach her some things.
– They also find out that they're both single (he broke up with Amy weeks ago) and get back together on the spot.
– Bay and Emmett meet back up (he drives up on his motorcycle!) and together, they talk of the future. Bay tells him he's going to be a huge photo journalist and she can tell people: "I knew him. He was my first love."
– FANS GET READY — BEMMETT MONTAGE SCENE RIGHT HERE!
– At the house, John talks with Bay about her job. They kind of make up, with him admitting that he doesn't really understand it all. Nevertheless, he's still proud of her.
– Regina tells the girls that she's moving out and buying a place in East River, where she'll live with Will.
– Daphne calls Kathryn and John mom and dad for the first time.
– The entire family goes to the front lawn to catch the comet and Bay and Daphne recreate the first ever promo poster for the season — hair out, laying down ear by ear.
===============================
TELL JJJ: What did you think of the series finale?
Like Just Jared Jr. on FB