Fri, 17 November 2017 at 5:15 pm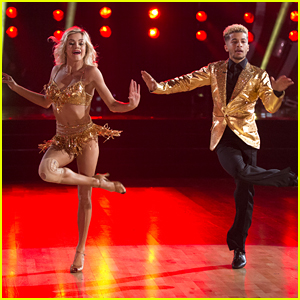 Lindsay Arnold is have a little Flashback Friday moment with her experience with Jordan Fisher on Dancing With the Stars today.
In her DWTS Blog for JJJ, the pro dancer is looking back at all his amazing performances and revealing how much improvement has been made since then.
One of the big moments for them was their Tango in the first week.
"It was a great dance," Lindsay reflects, "I know that if we were given the tango in week 9 and still in the competition, it would've been even better, because he would've learned so much more."
At the time Lindsay told us that Jordan was still coming into his own as a ballroom dancer and addressed that mostly all of the celebs had had dance experience in their past.
"A lot of people on the show have had dance backgrounds but when you talk about a general dance and then a ballroom background, they are a night and days difference," she says. "There are so many things in ballroom that do not correlate with any other dance styles."
It was great to see him improve over the couple of weeks that we had then, and it made us more excited to continue, because I knew that there was so much more to offer."
Click inside to see what else Lindsay told us…
In week four, Jordan and Lindsay got the first 10s of the season, and an almost perfect score with their Contemporary for Most Memorable Year week. The next week, they earned the season's first perfect score.
"It's still pretty crazy to wrap my brain around getting the perfect score," she recalls. "This was actually the first time that I've gotten the first perfect score of the season with my partner. It's never happened to me before. It was a pretty cool moment for both of us and we got to share it together."
Lindsay adds that the week was "very tough week too, so getting the perfect score after all those challenges we faced was just a reminder that hard work does pay off and it reminded Jordan and I that we can do anything we put our minds too."
One of Lindsay's favorite performances with Jordan was their Paso Doble, for Halloween night.
"I really loved our Paso Doble, which was by far one of my favorite performances I've ever done," she told us. "I loved the way the whole piece came together. Jordan was totally into his character playing a werewolf and it felt like we were in a scene of a movie."
Lindsay also chatted with us about the constructive criticism she and Jordan had been getting from the judges throughout the season, which helped them step up their game.
"That's the most important thing where Jordan can work on getting better and any critique or comments that they have, we will take and try our best to make it better," Lindsay shared. "We both love the constructive criticism. There's no way to improve without it."
She adds, "We both really respect what the judges do have to say. Sometimes that is hard, I'm sure you see it when watching the show, that there are some celebrities who can't take criticism and they don't like to hear that they are not perfect. That's the exact opposite of how Jordan is."
"Even in our rehearsals, he will stop and say, 'Lindsay, please nit pick me. I want to know all of the details. I don't want you to take it easy, or expect nothing from me. I want you to push me.' I love that about him. That's why he's so talented in what he does and why he's doing so well on this show."
Stay tuned for more from Lindsay!
Like Just Jared Jr. on FB