Sat, 10 February 2018 at 11:45 am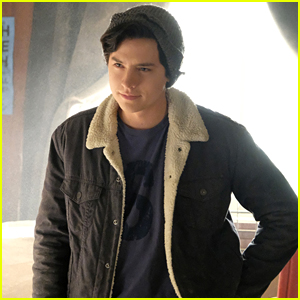 Don't expect Jughead to be singing in the upcoming Carrie: The Musical episode of Riverdale!
Creator Roberto Aguirre-Sacasa is spilling on choosing Carrie for Riverdale High's theater performance.
"On some level Riverdale is a crime and mystery and a pulp show," Roberto told IndieWire. "There is still an element of coming-of-age and high school obviously. Doing the school musical is such a rite of passage that we wanted to do that. The question that the studio network had was, 'Okay, but if you're going to do that, it's gotta still be a very Riverdale take on the musical.'"
"I'm a huge fanatic of 'Carrie' the novel and then the movie," Roberto continued. "I was obsessed with the Broadway flop of Carrie: The Musical. Probably five or six years ago, one of my good friends revived it Off-Broadway. He revealed it to be the real gem that I always knew it was, so we kind of thought, 'Oh, this would be a thematically a great musical for Riverdale to do,' partly because that show also has archetypes like the good girl next door, the nice boy who takes Carrie to the prom. It felt like oh we could play with these archetypes."
Kevin Keller (Casey Cott) will direct the musical with Cheryl Blossom (Madeleine Petsch) in the starring role.
"Cole and I talked about it a while ago and I said, 'How do you feel about musicals and stuff?'" Roberto shared. "He basically said, 'Listen, I never sang for Disney. It would take a lot.' But the truth is, when we really thought about the character of Jughead, he felt like the one character who probably wouldn't exactly be in the school musical. However, when you see the episode, he's very much an integral part of it and he's doing something that we think is quintessentially Jughead during the musical. Except he doesn't sing."
Jughead's non-singing role is listed as "The Beak," which is not a character in any of the Carrie versions so far.
The Riverdale musical episode will air on April 18 on The CW!
Like Just Jared Jr. on FB