Sun, 09 December 2018 at 6:30 pm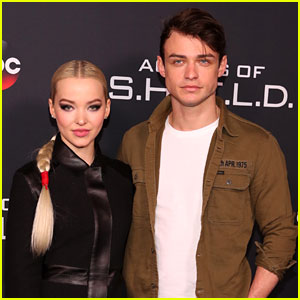 Dove Cameron and Thomas Doherty have some fun with each other on social media!
The Descendants 2 co-stars and real-life couple both took to Twitter in the early hours of Sunday (December 9) to share a funny exchange.
"You ever have food in your house that you knows gonna go off so you force yourself to eat it?" a tweet on Dove's account read. "I just ate 10 tangerines that were going bad, and now i have the runs lol @thomasadoherty."
"Just wanna go on the record and say that's not true, and @thomasadoherty had my phone," she added.
A tweet from Thomas's account then read, "One time I went through this massive spiders web, about 9 feet wide, but I didn't realise it because I'm very short sighted, and usually very sticky by nature. And then I ran into a cute girl, and she said "you're covered in spider web!" Ruh roh! Embarrassing. @DoveCameron."
"Omg you have eachothers phones," one fan commented.
Too funny!
ICYMI, Thomas recently did the sweetest thing for Dove between shows, causing her to cry!
Like Just Jared Jr. on FB