Sun, 17 February 2019 at 1:54 pm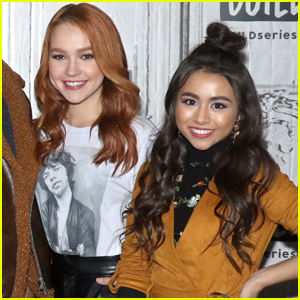 Sadie Stanley and Ciara Wilson are looking back on their life-changing auditions for the Kim Possible movie!
The cute co-stars took to their Instagrams to open up about the day that they first tried out for their roles in the Disney flick.
"February 15th of 2018 I was heading into my very first audition for the role of Kim Possible. Exactly one year later, today, February 15th of 2019, Kim Possible premieres on Disney Channel with me playing that same role I thought I had no chance of getting. Wild. Thank you. ❤️ I'll stop being dramatic and sappy now," Sadie wrote.
Ciara added, "i took this video in the parking lot after my very first audition for kim possible on march 5th of last year. i had no idea what the next 11 months of my life would entail. the best 11 months of my life. look at little me just jamming to the xylophone version of call me beep me. take that in. east coast- i hope you loved athena"
Check out their posts below…
Like Just Jared Jr. on FB