Tue, 01 October 2019 at 5:46 pm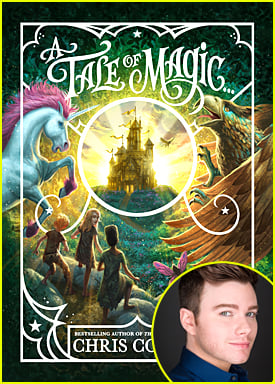 Chris Colfer's brand new book, "A Tale of Magic", is out today and you all should be running to the store to get it!
The new series is set in the same universe as "The Land of Stories", but it's a prequel!
It centers on Brystal Evergreen, who has always known she was destined for great things—that is, if she can survive the oppressive Southern Kingdom. Her only escape are books, but since it's illegal for women to read in her country, she has to find creative ways of acquiring them.
Working as a maid at her local library gives her the perfect excuse to be near them and allows her to sneak a few titles home when no one is looking. But one day, Brystal uncovers a secret section of the library and finds a book about magic that changes her life forever.
"It was supposed to be a very easy task for me," Chris joked while speaking on NBC Boston this week. "With the way the world is right now, I had to write something that would encourage young people out there."
He adds, "My demographic is 90% young girls and they have supporting me from the very, very beginning, so if I can give them an ounce of the courage they've given me, I can die a happy author."
"A Tale of Magic" is out NOW!
Like Just Jared Jr. on FB