Sat, 21 March 2020 at 7:46 pm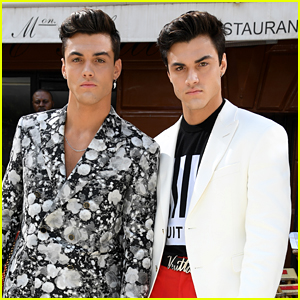 Ethan Dolan and Grayson Dolan are quarantined together amid the current health crisis, and their resulting tweets are hilarious.
The comedians and social stars are starting to feel a little stir-crazy, according to Ethan!
"Being quarantined with your twin brother is all fun and games until you start looking at your twin and wondering if he's actually you and you're having an out of body experience because you've gone f–king insane," he wrote.
Grayson Dolan also recently tweeted, "10am: I am going to save this food so it lasts the entire week … 11am: Half isn't so bad, still a lot left … 12pm: I've made many mistakes today."
Ethan Dolan replied, "Did you touch my peanut butter jelly sandwich boi. If I come in the kitchen and my PB&J is gone imma f–k u up."
LOL.
If you missed it, Riverdale stars Madelaine Petsch and Lili Reinhart also recently had a very unique idea for something you can do while social distancing at home!
being quarantined with your twin brother is all fun and games until you start looking at your twin and wondering if he's actually you and you're having an out of body experience because you've gone fucking insane

— Ethan Dolan (@EthanDolan) March 21, 2020
Like Just Jared Jr. on FB