Wed, 09 September 2020 at 2:11 pm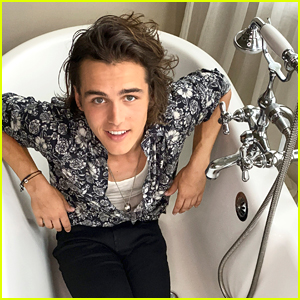 Charlie Gillespie is rocking his way through Julie and the Phantoms!
The actor stars as Luke, the lead singer of Sunset Curve, who has a huge passion for music and the drive to do whatever it takes to succeed.
You may recognize Charlie from his roles in Charmed or Degrassi: Next Class. He can also be seen in the movies Speed Kills and Runt, with Cameron Boyce.
JJJ got to know Charlie with 10 Fun Facts, including his favorite video game, what guitar he plays with and some of his most played albums.
In case you missed it, be sure to check out our other features with his co-stars Jeremy Shada and Madison Reyes, and stay tuned for more exclusive content with Charlie.
Julie and the Phantoms premieres TOMORROW (September 10) on Netflix!
1. I am a proud Canadian. Born and raised in the Maritimes.
2. The best video game ever released is The Legend of Zelda: Ocarina of Time. (Breath of The Wild is the second)
3. Hikes, I love them. All you have is the buddies you brought and the gear on your back. Having no service is the best problem. I've been able to hike in lots of parks across North America like Joshua Tree, The Fundy Footpath trail, Gros Morne, Redrock, and loads more.
4. I am the fourth born of five in my family. Four boys and one girl and they're all legends.
5. I volunteer with Mare Nostrum, which is an amazing foundation whose focus is helping all life in the sea. Check it out – https://joinmnf.org
Click inside to see more fun facts from Charlie Gillespie…
6. I once got run over by a tractor.
7. A few of my most played albums include Kygo "Cloud Nine," The Eagles "Hotel California," Band Camino "Tryhard," Post Malone "Stoney," and everything John Mayer… and dude there's so many more.
8. I play with a PRS Custom 24 electric guitar.
9. I ski and board. I got to do Whistler once, and it's the best hill I've ever been on.
10. My favorite dessert is donuts.
Like Just Jared Jr. on FB