Fri, 16 April 2021 at 7:25 pm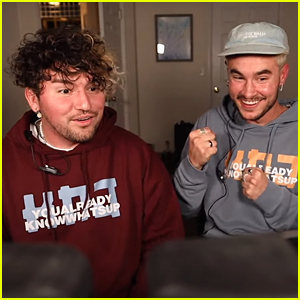 Kian Lawley and JC Caylen have made a big splash with their YouTube return!
The pair took some time away from their duo channel and returned on Friday (April 16), along with announcing their new series Escape The House.
The guys rented a 20-acre property for the new series, where they have "bada– cameras, we have actors on deck, we have Thomas, and we have new K&J merch."
"Basically, JC and I are back. We're excited to be here. We have a huge series coming out, well it's out now. Escape the Night baby, we have three teams of four. The contestants are coming, we're really excited. This is our first video back in a really long time, and it's also our second series we have ever produced and came up with on our own," Kian said.
The groups include, Team One (Reggie Webber, Danny Garcia, Kevin Langue and Christian Seavey), Team Two (Ryan Abe, Franny Arrieta, Dylan Statham and Crawford Collins) and Team Three (Oscar Guerra, William Hadaddin, David Alvarez and Brian Terada).
Kian and JC's first series, The Reality House, had two seasons, with the second wrapping up just over a year ago!

Kian & JC – 'Escape The House'
Like Just Jared Jr. on FB