Fri, 25 June 2021 at 7:46 pm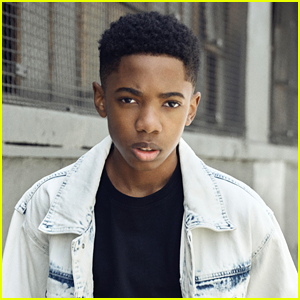 Seth Carr is starring in the brand new Disney+ series The Mysterious Benedict Society!
The teen actor plays George "Sticky" Washington in the new show, which is based on the award-winning, bestselling book series by Trenton Lee Stewart.
The new show follows four gifted orphans who, after winning a scholarship competition, are recruited by the peculiar Mr. Benedict for a dangerous mission to save the world from a global crisis known as The Emergency.
Click inside to learn more…
Reynie, Sticky, Kate, and Constance must infiltrate the mysterious L.I.V.E. Institute to discover the truth behind the crisis. When the headmaster, the sophisticated Dr. Curtain appears to be behind this worldwide panic, the kids of "The Mysterious Benedict Society" must devise a plan to defeat him.
Check out the trailer here and be sure to go watch the first two episodes, which are now streaming on Disney+!
JJJ got to know more about Seth Carr, who you may recognize from one of his many roles, including Young Killmonger in Black Panther, Fizzwick on Knight Squad, Aaron on Free Rein, or maybe as Young Holt on Brooklyn Nine-Nine.
Learn more about the young star with 10 Fun Facts (and more) below!
1. I can eat a whole box of Honey Nut Cheerios in less than a day.
2. I try to use "parenthetically" in a sentence whenever I can.
3. My favorite basketball player is Steph Curry.
4. Sour Patch Kids are my favorite candy.
5. My dad started teaching me how to drive when I was eleven years old.
6. I love to play video games. I consider myself a "gamer."
7. I watch a lot of YouTube. I'm almost at the tend. LOL
8. I love walking around barefoot.
9. I played sports when I was younger.
10. I'm fascinated with marine biology.
Bonus: I'm 25% Nicaraguan.
Bonus: My favorite all time movie is Back to the Future.
Like Just Jared Jr. on FB