Fri, 06 August 2021 at 4:40 pm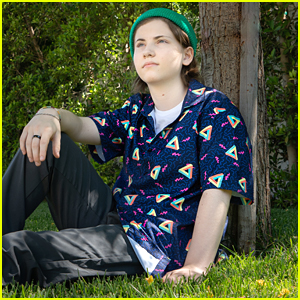 The Mysterious Benedict Society season one is coming to an end!
Emmy DeOliveira has starred in the Disney+ series as Kate Wetherall, one of the gifted orphans recruited by Mr Benedict for a dangerous mission.
Click inside to read more…
The Mysterious Benedict Society just premiered the eighth and final episode of it's first season. No word yet if there will be a season two, but we have our fingers crossed!
In the season one finale, "The Big Day Today," with free will and truth on the line, The Mysterious Benedict Society prepares for a final showdown.
Ahead of the end of the season, we spoke with Emmy and her co-stars to get to know more about them. Check out our exclusive 10 Fun Facts with Emmy DeOliveira below:
1. I am very passionate about drawing and animation and I want to go to Cal Arts and study animation to be a storyboard artist for TV Animation!
2. I used to do stand-up comedy sometimes which was pretty cool.
3. I'm obsessed with The Owl House, it's my favorite show and we need everyone to band together for a season 4! I also really like Amphibia.
4. I have two rescue dogs; one came with the name Poppy and we named the other one T.A.G. which stands for Theodore Alvin Guinness. I picked Theodore & Alvin because then I was into the Chipmunks and there was an orange cat named Theodore that I really liked. My dad added Guinness. :]
5. I love text emotes and I like to use them whenever possible! These guys are my favorites —> :]  :P >:3c :D :/ :3
6. I loved filming The Mysterious Benedict Society in Canada, I always wanted to go, and I love all the trees and it's really beautiful.
7. My cousin Alex Bregman is a professional baseball player; he plays third base for the Houston Astros!
8. I love music. It's super rare to ever find me not listening to some kind of it at any given moment. Some of my favorite artists and bands are Cavetown, Cage the Elephant, Tally Hall, Bears in Trees, and Louie Zong :P
9.  I love random facts and pride myself on my vast knowledge of information that is almost never relevant.
10. Even though I live in California I can't stand the beach, I hate sand.
Be sure to check out The Mysterious Benedict Society on Disney+ now, and check out our 10 Fun Facts features with the rest of the cast!
Like Just Jared Jr. on FB