Thu, 14 October 2021 at 4:39 pm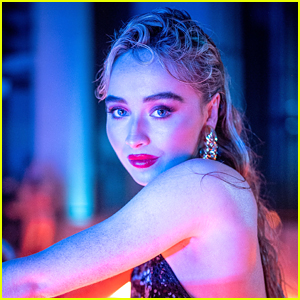 Sabrina Carpenter is opening up about her first song of 2021, "Skin," almost nine months after it's release.
The 22-year-old singer and actress shared in a new interview that she wasn't even sure if the song would be released and that it was misperceived.
Click inside to see what she said…
Quick reminder – Sabrina dropped "Skin" in January shortly after Olivia Rodrigo released "driver's license," which many fans believed to be about Sabrina and Joshua Bassett. Then fans perceived her track to be in response to Olivia's, amid all the alleged drama.
See what Sabrina said about the online drama back in February. More here…
Now, nine months after releasing it, Sabrina opened up about the song in a new interview with Billboard.
"That was a song which, unfortunately, was what I was going through, at a time in my life where I couldn't ignore it," she said. "When I wrote the song, I don't know if I anticipated it being heard — which is probably why it came from a much more truthful place."
Sabrina added that the whole experience around the song was "overwhelming," partly because she thinks the track was "misperceived."
"So yeah, the Internet has definitely f–ked some s–t up," she told Billboard.
"It's such a waste of time, because you'll never know the truth," Sabrina added. "That's part of the fun of it, I guess. But at the same time, there are real people. I will say, that's the hardest thing — trying to be truthful to yourself, make art that feels real and exciting, but then also knowing that [you're writing] about humans going through what we're all going through on a daily basis."
She also shared that her upcoming new album will have a different sound than "Skin," which might not even be on the album.
Check out her last single "Skinny Dipping" if you missed it.
Like Just Jared Jr. on FB