Mon, 17 January 2022 at 2:16 pm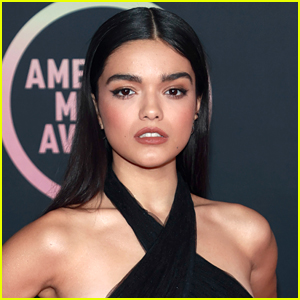 Rachel Zegler is opening up about her upcoming movie Shazam: Fury of the Gods!
The 20-year-old actress dished on her role and keeping it a secret before her co-star spilled the beans, and what it's been like to be a part of the Shazamily.
Get the deets inside…
"I worked really hard to keep my character under wraps and Helen Mirren went and spilled the beans. It was hysterical. Like, she went and did an Associated Press interview and just told everyone," Rachel said on the <em>Variety Awards Circuit podcast. "I was the secret. My character was the secret and then… But if anyone's gonna spill the beans… I was like you could get in trouble, you're not gonna get in trouble, but you could…"
"So yeah, there's three goddesses. I am the youngest of three goddesses, we're three sisters and yeah. We come in and shake up the Shazamily of it," she continued. "It's such a fun movie. It just had test screenings recently and it did really well. I don't think we have to reshoot, which is pretty exciting, because we were really certain. It's a CGI-centric superhero film, we were certain that something would have to get redone. I'm sure that there will be, but not as extensive from what I've heard, which is wonderful."
Rachel also opened up about the fandom and people trying to get photos while they were filming.
"It was really weird to be a part of something that people were so excited about, where we were filming on a rooftop of a parking garage and people got rooms in the hotel looking over the parking garage just to take photos," she shared. "Being part of something that was that exciting for so many people, it's really cool. And the fans are awesome, and they have so many theories, and it's fun to read who's right and who's wrong. I mean, it was such a joy."
"And then truly, getting to work with some incredible people – Helen Mirren, Lucy Liu. Jack Dylan Grazer's just such an incredible young actor. I was just mind blown by his ability to improv every single day. I'm very excited to see that finished product," she said.
In case you missed it, check out the first footage of Rachel in Shazam: Fury of the Gods, where she shares multiple scenes with Jack.
While on the podcast, Rachel also teased another one of her upcoming movies – Snow White. See what she said!
Like Just Jared Jr. on FB