Mon, 29 November 2021 at 3:48 pm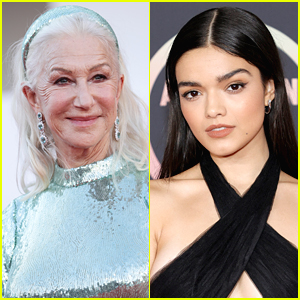 Cat's out of the bag thanks to Helen Mirren!
The actress will be seen in the upcoming Shazam: Fury of the Gods as goddess Hespera, and she recently spilled the beans on her co-star Rachel Zegler's character.
Little has been officially known about the rising star's role in the film, though fans have figured some info out…
After her casting was announced, Rachel tweeted, "i am in my key role in shazam 2 era."
Find out more inside…
In a new interview, Helen dished that Rachel is also a goddess, along with her and Lucy Liu, who plays Kalypso.
"I'm not going to tell you [if my character is a hero or villain]. You're going to have to ascertain for yourself," Helen told AP. "I'm a member of three goddesses: Lucy Liu as Kalypso and the third goddess played by Rachel Zegler, who will be a huge star in a very short space of time."
"So there are three of us together, and that was really a great experience because it's so infrequent that you get to spend a whole of a movie with two other women," she added. "So often you're the only woman in the cast. Here we were a trio, and that was great. I loved it."
After the above quotes from Helen were shared on Twitter, Rachel had a funny response.
"y'all…. my bag is empty……. i swear i had a cat in here………" she wrote. LOL!
In October, a behind-the-scenes look at the upcoming Shazam sequel was revealed at DC FanDome, showing our first look at Rachel's character.
At one point in the sneak peek, Rachel could be seen wearing a gold costume, similar to the one that Helen was spotted on set in back in June.
If you didn't know, Hespera and Kalypso are said to be the daughters of Atlas, which is based in Greek Mythology, and Rachel's goddess is an unknown, as of yet, third sister.
Like Just Jared Jr. on FB