Thu, 14 April 2022 at 5:50 pm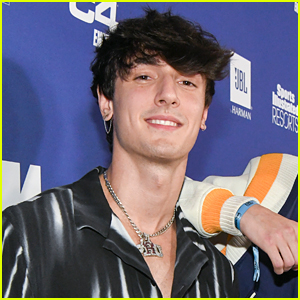 Bryce Hall has been cast in a new movie!
The 22-year-old TikToker will be starring in the film Skill House, from writer/director Josh Stolberg, according to The Wrap.
The movie will be the first on Ryan Kavanaugh's new Entertainment Stock Exchange site, which is "designed to allow users to invest in film projects and trade in and out of a film's potential upside."
Get the scoop on the movie inside…
Skill House is "a dark satire of social media and influencer culture, exploring how far people will go for online fame," and it will actually be filmed at the Sway House!
"I've worked with some of Hollywood's biggest stars…but my kids are more excited about this project than any other I've worked on," Josh said. "These social media personalities are the new Hollywood, and they are reinventing what it means to be a star."
"When a young kid from Maryland, like Bryce, with nothing but a cell phone and a ring light, can attract tens of millions of followers on TikTok and Instagram, it evens the playing field for everyone," he continued. "But there's a dark side to this new entertainment landscape, and I'm excited to flip that rock over."
"This film intends to break the boundary between the short-form social media phenomenon and long-form content," Ryan Kavanagh said. "Bryce is one of the most recognized and polarizing influencers with over 50 million followers and will certainly be a crossover star. The film digs deep into the human psyche and the new generation's thirst for stardom, asking how far they would go? It will be bloody, it will be dark, and it will certainly be talked about."
Bryce is just the latest from Sway House who will be starring in a movie.
Last fall, it was announced that Josh Richards will star in his first film, which he is also producing through his CrossCheck Studios, and just recently it was revealed that Noah Beck will star in and executive produce a new movie based on a WattPad novel.
Like Just Jared Jr. on FB