Mon, 25 April 2022 at 6:18 pm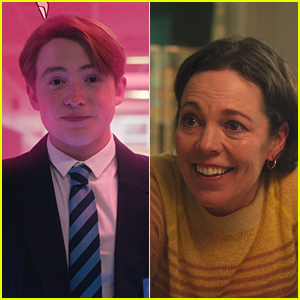 Kit Connor is opening up about one of his Heartstopper co-stars – Olivia Colman!
The young actor plays Nick in the new Netflix series, while the Oscar-winning actress portrays his character's mom.
Olivia's casting was a surprise to fans while watching the series, when all eight episodes dropped on Friday (April 22)!
In a recent interview, Kit dished on what it was like working with her.
Find out what Kit shared inside…
"It was an amazing scene. I think it's a beautiful scene. Script-wise, I think it's really sort of slightly heartbreaking and then also just so heartwarming at the same time. So going into it, you've already got that great material," Kit told Digital Spy of Nick's coming out scene with his mom.
"But then to be able to work with someone like Olivia, who is just such an incredibly talented… She, herself, is just a beacon of sort of warmth and happiness and energy, which was so exciting. We were lucky enough to shoot with her for two days, and both of those days were just filled with fun and… [pause] Yeah, it was amazing," he continued.
Kit then shared what it was like watching her work, and almost forgetting that he too had lines in the scenes.
"That was when I really realised that you just sort of witnessed how amazing she was, because she's so effortless. She really just kind of looks over her lines, and looks at the script, and then suddenly brings it to life," Kit said. "It's something I've never— you know, you hear about it, but that level of effortless ability is something you only ever dream about. So, yeah, it was incredible. It was incredible to sit at the other side of the table, and watch her act, really. Sometimes I had to forget that I had to actually do some stuff as well."
If you missed it, meet the cast of Heartstopper here and be sure to check it out on Netflix now!
At the time of this post, it's in the Top 10 titles on Netflix in the US.
Like Just Jared Jr. on FB