Thu, 19 May 2022 at 8:55 pm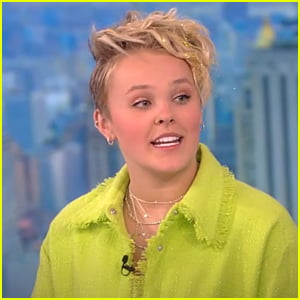 JoJo Siwa is opening up about having short hair!
The entertainer, who just turned 19 years old TODAY (May 19), made an appearance on The View, and dished on liking to dress more feminine and when she decided to cut her hair.
Check out what she said inside…
If you remember, JoJo cut her hair short back in early April.
"I've wanted to cut my hair like this since I was literally, like seven or eight, and I finally brought it up to my mom," she dished. "I got the courage to bring it up to my mom and I brought it up to her and she was like absolutely not. I was like, 'I knew you were going to say that, but hear me out a little bit.' She was like, 'Well, ask your team.'"
"So I asked my team and they were all like, 'Yes!' and then all of a sudden my mom was like, 'If they're on board, I'm on board,'" JoJo continued. "And I made my appointment for the next day. Before somebody said no, I had to do it!"
JoJo then added that it's fun to play with, and "it's really fun to style." "It's liberating," she told the hosts.
She was then asked if she felt pressure to look a certain way, to which she responded, "I have learned that I like to dress more feminine now with this hair… I like to look a little more feminine now, but I think it's cool that I get to break a stereotype of like, a feminine girl can have short hair, ya know. It's nice."
If you missed it, JoJo recently confirmed these fan theories and rumors…
JoJo just started a new TV show, and she's going to have a series on Facebook Watch. Get the deets!
Like Just Jared Jr. on FB