Mon, 30 May 2022 at 8:11 pm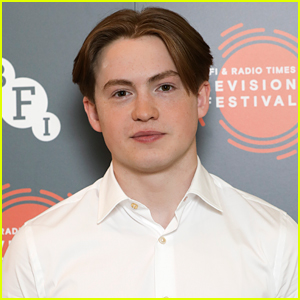 Kit Connor is opening up about his sexuality, sort of.
The 18-year-old Heartstopper star opened up about his identity during a recent podcast interview, and how he doesn't feel the need to publicly label himself.
Click inside to see what Kit said…
Prior to the interview, Kit had tweeted, "twitter is so funny man. apparently some people on here know my sexuality better than I do…"
Of course, on the show, his character Nick Nelson ends up coming out as bisexual.
"I feel like it's something very important to sort of make people aware of because I think, especially with a show like Heartstopper… One thing that I found sort of difficult to understand as well, sort of, certain comments made about Joe [Locke] and his appearance, and things like that," he says on the Reign with Josh Smith podcast. "I don't understand how you can watch a show like Heartstopper, which is just so joy-filled and sort of positive, and just warm, and then come out of it, after enjoying it, and then come out of it and say something sort of, I don't know, just mean."
"I think in regards to my tweet, we're still all so young, and to start sort of speculating about our sexualities and maybe pressuring us to come out when maybe we're not ready," Kit continued. "I mean, for me, I just feel like I'm perfectly confident and comfortable in my sexuality, but I don't feel the need to really, you know, I'm not too big on labels and things like that. I'm not massive about that, and I don't feel like I need to label myself, especially not publicly."
"To be honest, that tweet was sort of slightly calling them out, but it was also just like, I honestly found it a little bit funny how they just make assumptions about… you know, it's 2022. It feels a bit strange to make assumptions about a person's sexuality just based on hearing their voice or seeing their appearance," he adds. "I feel like that's a very interesting, slightly problematic sort of assumption to make."
In case you missed it, here's who Kit wants to see guest star on Heartstopper season two!
Like Just Jared Jr. on FB