Wed, 01 June 2022 at 3:36 pm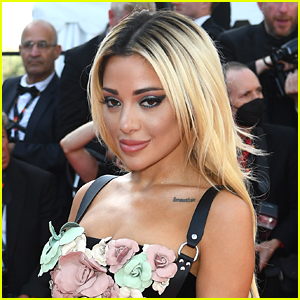 Gabi DeMartino is speaking out about her breakup from Collin Vogt.
The 27-year-old singer and YouTuber opened up in a new vlog, addressing what led to their split and why they are no longer getting married.
Find out what she said inside…
"I'm not getting married. I hope someday," she shared. Gabi then mentioned that they were supposed to get married at the end of May.
"The decision that we made was the least dramatic thing possible. It was honestly just a rational decision, at that point in my life, not only was I getting cold feet, which I'll touch base on in another YouTube video, but I was getting an extreme cast of cold feet," Gabi said. "My job and career and my life path was like going this way, and he needed to be home and I needed to be out and about."
"At the end of the day, we've mutually made the decision that we weren't going to be getting married anymore," she continued. "I'm the type of person that when I'm figuring stuff out behind the scenes, I don't want to speak on things publicly. I don't want to put everything just out there right now. My life, my personal life is very confusing. I know this stuff happens to other people, but it's just even harder when I have a platform and a following."
"I know a lot of you guys looked up to our relationship. I still admire the relationship because him and I are still best friends, and that is fine," Gabi shared. "I never thought in a million years I would get cold feet and I never thought we would have made that mutual decision."
If you missed it, Gabi and Colin confirmed last month that they broke up earlier this year. See both of their statements here.
Like Just Jared Jr. on FB