Fri, 02 September 2022 at 1:58 pm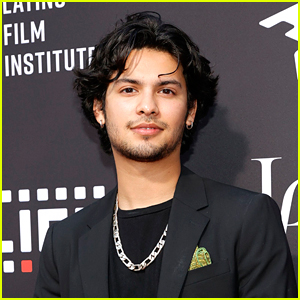 Xolo Maridueña is opening up about his upcoming movie Blue Beetle in a new interview!
The 21-year-old Cobra Kai actor stars in the new DC Comics movie as the title character Blue Beetle, also known as Jaime Reyes.
"I always get so nervous talking about the movie," Xolo said in an interview with THR. "Let me preface this by saying that everything that I'm saying was in the comics, OK? I don't want to hear anybody say, 'Xolo was giving away spoilers from the movie.'"
He then went on to share what makes his movie so unique in a world full of SO many superhero projects.
See what he said inside…
"Jaime Reyes/Blue Beetle has been passed the torch from other Blue Beetles. There are other iterations of the character. My iteration is a kid from Texas who stumbles upon these powers," he said. "The thing that makes this movie different than any other superhero movie I've seen — well, there are a ton that I haven't seen…"
"The family aspect to this movie and to the character is inherent to the comics and so special. The family we've been able to create in the movie — the mom, dad, uncle, sister, grandmother — I feel like that aspect of being a superhero hasn't been tapped into a ton," Xolo continued. "So many superheroes have alter egos, these aliases and personas. They have one life where they're Spider-Man or Batman and then they go home and they're Bruce Wayne or whoever. They're constantly hiding their identity. But with this character, he lives with his family and there's no way to hide who he is. Right from the very first moment he gets his powers, his family knows. That's different."
"It's a dynamic that's so foreign to the superhero world. It's one of my favorite parts of the comics and I hope that it translates to the movie."
Xolo also added about his suit, "Every time getting in the suit I get so giddy. The thing is sick, it's awesome and being in it is even cooler. I'm really excited for everyone to see everything that the suit can do in the movie."
Before Blue Beetle comes out, which wrapped filming in July, Xolo can be seen in the upcoming fifth season of Cobra Kai next week. Watch the trailer here!
Like Just Jared Jr. on FB