Wed, 07 September 2022 at 1:03 pm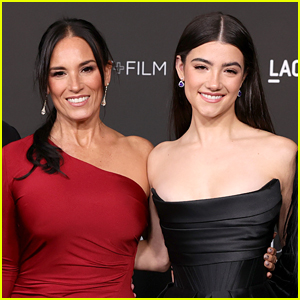 History is being made for a second season in a row on Dancing With The Stars!
It was officially announced that Charli D'Amelio and her mom Heidi are competing on the upcoming 31st season coming to Disney+ in just a couple of weeks.
They are making history as the FIRST mother-daughter duo competing against each other on the ballroom competition!
Find out more inside…
"We were filming our Hulu show, The D'Amelio Show, at the time, and all of a sudden they're like, PR wants us all, Charli and I, on a zoom right now," Heidi shared on GMA about when they got the call. "We thought we were getting canceled and they were calling to tell us that. We were like what did we do? I don't remember doing anything."
"So we sat down at the Zoom and they told us. I was in shock for myself. I was like more of I could see [Charli getting it]," she continued.
Charli added, "I thought they were joking. I didn't think they were being real, I thought it was a prank. But when they were like, 'No, this is real,' I was so excited for the both of us. Especially to do this together."
Charli and Heidi both come from the competitive dance world, having competed in dance competitions, both when they were younger. Though as Heidi points out, "It's been a long time… we'll see if it's like riding a bike and I can pick up choreography."
Last season, JoJo Siwa and Jenna Johnson made history as the first same-sex partners competing on the show.
Charli and Heidi's casting was first rumored a couple weeks ago. Their partners have not been revealed yet, though that will likely be announced TOMORROW (September 8) when the full cast is unveiled.
Find out which pros are returning this season…
ICYMI: The season two trailer for The D'Amelio Show was just released. Check it out!
Like Just Jared Jr. on FB