Wed, 23 November 2022 at 8:15 pm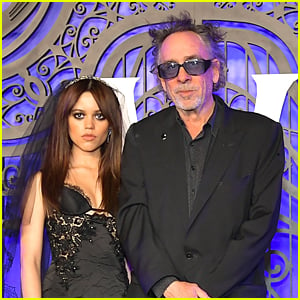 Jenna Ortega is opening up about director Tim Burton and his attention to detail!
The 20-year-old actress and the legendary director of course worked together on the new Netflix series Wednesday, which is out now.
In a recent interview with her friend Olivia Rodrigo, Jenna dished on working with the director and shared a story of how he made sure her hair was just right before filming.
Check out what she said inside…
"Working with Tim was incredible. I didn't really know what to expect and every time I'd spoken to him prior… He's a man of very few words," Jenna told Olivia for The Face. "You speak to him for five minutes about something that might be a really big deal, but he always goes more in-depth with things on set. I remember on the first day, I was really nervous to continue shooting with him because I didn't know what it would be like."
"We'd been trying to perfect Wednesday's braids. We were two hours behind because he kept coming over and saying: 'No, that's wrong. No, this isn't straight enough.' They were shaving the back of my neck to create the perfect line. They were cutting my hair on the day – there were hair and make-up artists cutting new extensions in the trailer as we were speaking and as we were shooting. He took a hairdresser's comb and brushed my hair. He was taking apart my fringe one [hair] by one until it sat in the place he wanted it to sit. Then he hairsprayed it so that it wouldn't move," the actress shared.
"He was very intense and meticulous. He'd never done TV before and I was like, what's our schedule going to look like? What scenes are getting pushed to tomorrow? After we established the look – which was also very exciting to see him do, because he's such a visionary – he refused to shoot anything that didn't satisfy that itch that he had in his brain," Jenna continued. "It's very insightful to see. He always did it kindly. He knew everyone's names, [but] he was very quiet and [kept] to himself. He excused himself if he felt he was in the way.
"I've never worked with someone on that level before, but I've had people on smaller levels who have been disrespectful to crew, don't know how to talk to an actor, it doesn't feel like a collaboration," she said. "With Tim, I never had that problem. He's one of my favourite directors I've ever worked with. I feel like I learned so much from him and he was always happy to teach. What a sweetheart of a creature. I'm blown away by him. I don't know what I anticipated, but after getting to know him, you couldn't be nervous. He just wanted you to feel as comfortable and prepared to do whatever it was you were doing, which is wonderful."
In case you missed it, find out what Tim said about what drew him to the Netflix series.
Did you see what similarities Jenna said she has in common with Wednesday Addams?
Like Just Jared Jr. on FB