Mon, 28 November 2022 at 1:29 pm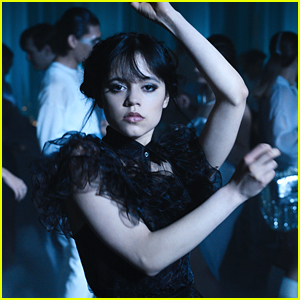 Jenna Ortega opens up about a scene in Wednesday she wasn't fully confident in…
The 20-year-old star of the new Netflix series reveals she was insecure about one scene in particular, but her co-stars all love it!
The scene in question, the dance scene in episode four, where she puts on a whole routine while attending with Hunter Doohan's Tyler.
Here's what she said…
"I actually felt really insecure about this. I choreographed that myself, and I think it's very obvious that I'm not a dancer or choreographer," Jenna said in a new reaction video from Netflix.
Co-star Emma Meyers, who plays her roommate Enid, said, "This is my favorite scene. We brought this up so many times… It's fantastic."
Hunter added, "The last two days this is all we've been talking about… It's amazing!"
"It's hypnotizing, really," Joy Sunday, who plays Bianca, said.
The dance is set to the song "Goo Goo Muck" by The Cramps.
If you missed it, in addition to choregraphing the dance herself, Jenna also took cello lessons, German, canoeing, fencing and more. Find out what she said about all the prep work that went into the role!
Jenna also recently dished about how meticulous director Tim Burton was about Wednesday's look on the first day of filming.
Wednesday has been at the top of the Top 10 most watched TV shows on Netflix since it premiered. You can stream all eight episodes now, and we HIGHLY recommend that you do if you haven't already!
Like Just Jared Jr. on FB