Tue, 20 January 2015 at 2:30 pm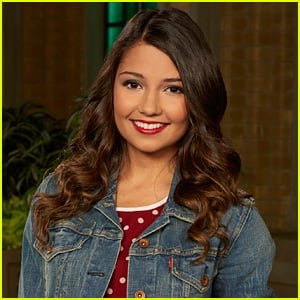 Check out this brand new interview with Cristine Prosperi about her new show Open Heart!
The 21-year-old Degrassi alum stars as the bright and gossipy Mikayla in the show that follows 16-year-old Dylan Blake (Karis Cameron), the rebellious daughter of a fractured family of doctors, as she uses her stint as a youth hospital volunteer to secretly investigate the disappearance of her father.
She enlists the help of her friends Mikayla (Prosperi) and the handsome charmer Wes (Justin Kelly) to start looking into her dad's disappearance, unearthing a trail of clues that lead them to some very unexpected places.
We caught up with Cristine about her character, reuniting with fellow Degrassi alum Justin, and more. Check it:
Remember – Open Heart premieres TONIGHT, January 20 @ at 9PM ET on TeenNick!

Open Heart Premiere Episode Clip
JustJaredJr.com: Tell us about your character! She sounds very different than Imogen.
Cristine Prosperi: She is very different from Imogen. Mikayla is a fun, loving, girlie girl who becomes great friends with Dylan. They are partners in crime and go through tons of adventures throughout the season. Appearance wise, Imogen is quirky and zany while Mikayla is more fashionable and girlie. Another difference – Mikayla likes boys while Imogen was into the ladies.
Click inside to read the rest of our interview with Cristine Prosperi…
JustJaredJr.com Interview – Cristine Prosperi
JJJ: Are you as bubbly and gossipy as Mikayla in real life?
CP: Yes, both. It is easy and so much fun to play Mikayla because she has such great energy.
JJJ: What was it like reuniting with Justin Kelly on set but in a different capacity?
CP: Justin is so talented and funny and I learn so much from him. It is so exciting to work with someone from a previous show.
JJJ: Karis is a relative newcomer. Did you give her any advice or words of wisdom along the way?
CP: I did. I told her to be confident in your craft and have fun along the way. Own it, you are the show! She really pulled through and everyone is excited for her.
JJJ: What has been your most memorable moment from filming so far?
CP: Working on such a fabulous set. Being in the hospital setting and around hospital equipment was pretty exciting and new for me.
JJJ: Did you and the cast get to hang out and bond off set while filming in Toronto? Any fun stories you can share?
CP: Karis and I went to a few concerts together – One Direction and Ed Sheeran. The cast really bonded. We went bowling and to dinner a few times during the filming. We are like family.
JJJ: What's the relationship like between Mikayla and Wes?
CP: Mikayla and Wes have been best friends for years. It is a great brother and sister-like relationship.
JJJ: As for Dylan and Mikayla, they sound like their different personalities complement each other very well. Does this come in handy when it comes to solving the mystery together?
CP: Definitely! We have different ways at looking at the story. When we put our heads together we become a power team that can find clues.
JJJ: What do you think Mikayla's biggest weakness is? Biggest strength?
CP: Biggest weakness – Getting caught up in the gossip. Biggest Strength – Standing her ground. She doesn't go back on what she believes in.
JJJ: Give us three words to describe the show and why we should watch!
CP: Thrilling, Sexy and Intriguing. You should watch the show because it encompasses so many genres – mystery, romance, comedy and suspense. Every episode will leave you wanting more.
Open Heart premieres TONIGHT, January 20 @ at 9PM ET on TeenNick!
Like Just Jared Jr. on FB