Fri, 03 April 2015 at 4:00 pm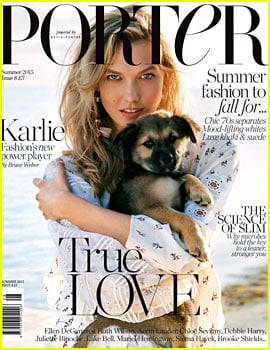 Karlie Kloss shows off some puppy love for the cover of Porter's Issue 8, on sale April 3.
The 22-year-old model opened up to the mag about returning to college, how social media has changed the modeling industry, and more. She was photographed by the legendary Bruce Weber for the shoot. Check it:
On social media giving models a voice: "When they're casting a girl, they will look at how many Twitter followers she has, how many Instagram followers, the kind of reach that she has. (Even just a few years ago) the industry as a whole said that you were not allowed to say what you were doing or who you were working with. Now if you use the tool in the right way, it can be a way to have a voice. In a way that somebody like me never had before."
On returning to NYU to study computer coding: "I'm not in any rush to get a degree in four years. I'm figuring out how I'm going to balance it all, but I am planning to take a class in the fall. I definitely could not get a job as a coder yet. But it is something I am fascinated by, even if it is not the profession I choose. Simply having the comprehension of the way that it works, having the ability to speak that language and to be able to not only comprehend it, but write and build something – the world is built on code."
For more from Karlie, grab the latest issue of Porter!
Like Just Jared Jr. on FB