Sun, 18 October 2015 at 2:30 am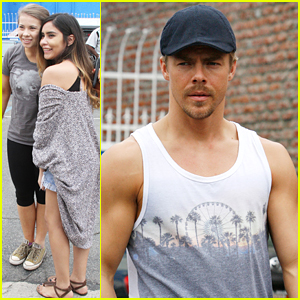 Derek Hough and Bindi Irwin take some time to meet with waiting fans after practice in Los Angeles on Friday afternoon (October 16).
The 30-year-old pro dancer wrote about his lift with Bindi, 17, for this week's upcoming DWTS show in his new blog for TVGuide.
"Normally, we can do our own versions of these dances, but they told us they want us to reflect the original as possible. We still have some freedom with it. The tough part is the lift, of course," Derek wrote. "I don't normally do lifts and I never really have done those on the show. And this is a really difficult lift to do. We try every day and we've gotten really close."
He added, "Yesterday, we went to a lake — and I use that term loosely. It was more of a smelly bog. It was in the Hills. There's a little reservoir and it was so gross. The silt was like 3-feet deep. When you stepped in it, the bubbles popped. Believe me, I did not choose that location! But it was actually really fun."
Team Takedown's Alek Skarlatos and Lindsay Arnold are also pictured below arriving together for practice.
25+ pics inside of Team Crikey and Team Takedown…
Like Just Jared Jr. on FB