Tue, 02 May 2017 at 10:15 pm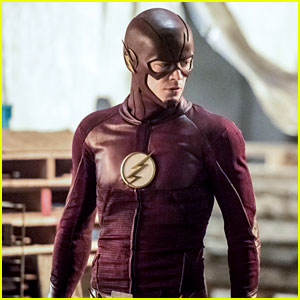 SPOILER ALERT – Obviously stop reading now if you don't want to know spoilers from The Flash!
The moment that fans of The Flash have been waiting for has arrived and we finally know the identity of Savitar.
The villain's identity has been kept a secret for a while now and fans were shocked to find out who the person is.
Click inside to find out the spoilers…
BEWARE OF SPOILERS BEYOND THIS POINT!
Savitar is a future version of Barry Allen (Grant Gustin) himself. When the villain said, "You are the past, whereas I am the future, Flash," he literally meant that he is the future Flash.
"The mystery is ongoing, but obviously Savitar is a version of Barry Allen, a heavily scarred version," executive producer Andrew Kreisberg told EW about why a future version of Barry Allen would want to kill Iris West.
"What's really cool for anyone who thought that there wasn't a plan, or we didn't know, or we were making this up as we go, this was always where we were heading," Andrew added. "The idea that the darkest villain we could come up with was actually a very damaged version of our hero was interesting and fresh to us. We're not only competing with all the stuff that we've done on Flash, but we're always competing with everything we've done on all the other shows. So to have our lead actor be both the hero and the villain isn't something we've done before, so that was exciting for us as storytellers."
Like Just Jared Jr. on FB