Wed, 10 May 2017 at 5:12 pm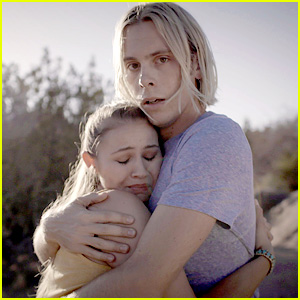 Riker Lynch may have a new record out this Friday with R5, but right now, he's talking to JJJ all about his new movie, Voyeur.
The movie centers on three young friends who road trip to the Coachella Valley to party in Palm Springs, hike in Joshua Tree and attend the festival. However, something hides in their shadows, and the trip takes a turn toward terror.
Riker, who plays Danny, spoke exclusively with JustJaredJr.com about the film, how he prepared for it, and just how fans can get involved.
The film is on Kickstarter, only needing funds for final audio, color, visual effects, as well as film festival submissions and associated costs.
"[They can] choose from a bunch of different prizes if they want to help fund the post production of the film," Riker tells us. "There's some really cool stuff on there."
He also opened up about his character and if he's like him at all.
"Danny is a fun, loving guy but he has a bit of a temper sometimes which comes from his past I think," he explains. "There's history with Danny that is fully explained but you kind of feel it when he snaps about something."
But one thing is for certain about him, Riker adds, "he's also completely in love with Lisa."
Click inside for more of our interview with Riker Lynch…
JJJ: How was is working with Ayla Kell, who plays Lisa?
RL: Ayla is great! She can do everyone's job on set. It's pretty funny. Like as soon as they're calling for someone at base camp to move a light or change camera lenses or something and the person isn't there, she'd be like, "I'll do it!"
JJJ: This movie is a thriller. How did you prepare yourself for that?
RL: For me, it was really just about being in the moment of each scene because when strange things happen that don't normally happen, you're never really sure how you will react. I just wanted to take each scene as if was happening for the very first time ever.
JJJ: What do you think your fans will think of you in a thriller movie? Do you think they'll like it?
RL: I think they will like it! I hope they do (laughs). It's definitely something most of my fans from R5 haven't seen me do before but on DWTS I was somewhat of a different character each week on there, so it's similar in that way. I think it's always fun to see someone you enjoy being entertained by do something they haven't done before.
JJJ: What was the most surprising scene that you filmed?
RL: Well without giving away too much, there is a "light" fight scene that goes down. I say "light" because it's quite short but I was just surprised how much my heart rate would jump at the start of it. Even though I knew it was all just pretend, there was something that my body would feel and my heart rate would just be crazy. [It's] Like a fight or flight mode I guess. It was very interesting.
JJJ: What was the most difficult for you?
RL: The film is shot partially with the camera my character, Danny, gets for his birthday, and I was operating it for a lot of the time. So, not only did I have to know my lines, and blocking and what not but I also had to make sure I had the camera pointing in the right direction and trying to make sure its focus is set. It wasn't easy but it was really cool.
JJJ: You've been to Coachella. After filming this, are you more weary of a trip to Indio?
RL: Maybe a little (laughs). I do love a good music festival though. I'm sure I'll go next time anyway.
Like Just Jared Jr. on FB