Thu, 08 March 2018 at 9:35 am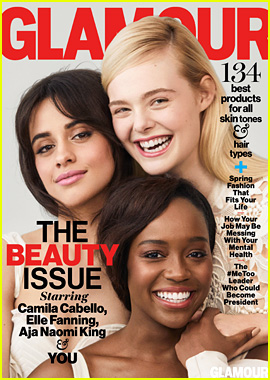 Camila Cabello, Elle Fanning, and Aja Naomi King are the newest cover stars for Glamour's April issue, which debuted on International Women's Day!
Check out what the three stars had to share with the magazine…
Elle, on social media: "I think it starts with what people put out there. Airbrushing is not attractive. Imperfections are what's beautiful. I like to post funny, not-so-serious things."
Camila, on learning to love herself: "But still, there was a period when I really wanted light eyes. It was only as I got older that I was like, 'I like my brown eyes, I like my black hair, I like my skin. I don't need to be blond and blue-eyed.' There are still things I'm insecure about, like my crooked teeth, but I think part of beauty is accepting imperfections. The more I meet people and see the world, the more I realize it's those little quirks—a birthmark, a crooked tooth, a scar—that makes you you. As they say with art: Perfect is boring."
Aja, on beauty rituals from her family: "Growing up, I observed [confidence] in my mother—for a young black woman in the job market having to prove herself, makeup became a thing that said, 'I am flawless, and you cannot critique that.'I am flawless, and you cannot critique that.' I watched her use it as a kind of armor. And I was able to grow into that boldness as well. There's nothing like walking into an audition room and knowing that you are immediately being judged."
For more from the stars, visit Glamour.com.
Like Just Jared Jr. on FB