Fri, 03 August 2018 at 11:42 am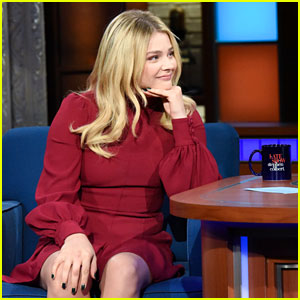 Chloe Moretz had to fake an accent to get one of her major movie roles!
The actress visited The Late Show with Stephen Colbert on Thursday (August 2) to discuss her film The Miseducation of Cameron Post, out today.
"I lied to a pretty heavy hitter," she told host Stephen Colbert. "I lied to Martin Scorsese for Hugo. In Hugo, I'm supposed to have a British accent and be British. So, I went in there just ready for it, and I lied."
"I hadn't done a British accent before, but I always enjoyed accents, so I played around with it with my brother," she continued. "We always, like, pretended to be British, but I have a solid ear, so I'm OK with faking it."
"I go into the audition – and I'd done a couple smaller auditions, and the casting director knew I wasn't British, but she knew that I was willing to lie, and she liked me. She was like, 'Lie to Marty, and work.' I was like, 'OK.'"
Watch below to find out what Chloe said during her audition, and to find out when Martin finally realized she was lying!

Chloë Grace Moretz Lied To Scorsese To Get 'Hugo'
Like Just Jared Jr. on FB