Mon, 17 February 2020 at 1:00 pm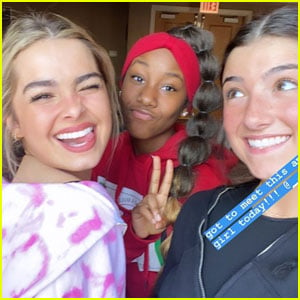 Charli D'Amelio and Addison Easterling are giving credit to the creator of the Renegade, Jalaiah Harmon!
While the two TikTok stars weren't the first people to perform the dance on the platform, they have been credited with popularizing the dance.
After Jalaiah was featured in an article in the NY Times, many people rallied behind Jalaiah to give her proper credit for creating the dance, which she first posted on Funimate in September.
In October, a user named @global.jones posted the dance to TikTok without credit to Jalaiah. It quickly became popular after Charli and Addison performed it.
Now, Charli, Addison and Jalaiah are getting the chance to perform the dance together.
"got to meet this amazing girl today!!!" Charli wrote on her Instagram.
Jalaiah added, "Like we hit the lottery 🔥🆙🐐 !! W/ @charlidamelio @addisoneasterling 💕 I know we snapped 🔥🔥"
After the meet up, Jalaiah joined the girls at the NBA All Star Game, where she got to perform the dance in front of the entire arena!
Check out Charli, Addison and Jalaiah's collab below…
@_.xoxlaii

Like we hit the lottery 🆙🔥🥳 addisonre charlidamelio
Like Just Jared Jr. on FB