Fri, 13 March 2020 at 2:00 pm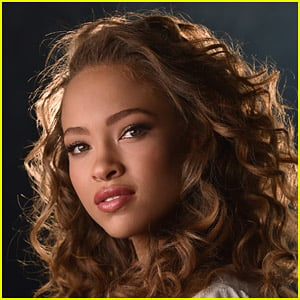 Shelby Simmons is killing it with her Disney roles!
The 18-year-old actress can currently be seen on Bunk'd on Disney Channel, and now, you can catch her in Stargirl, streaming on Disney+.
PHOTOS: Check out the latest pics of Shelby Simmons
Just Jared Jr got to know the actress, who's also been seen on Netflix's Prince of Peoria and Andi Mack, and learned 10 Fun Facts about her, including what she originally wanted to be when she grew up!
Be sure to catch Shelby Simmons in Stargirl, streaming now on Disney+, and tune in TONIGHT (March 13) for an all new episode of Bunk'd at 8/7c on Disney Channel!
Click inside for Shelby's 10 Fun Facts…
When I was little, every girl I knew wanted to be a vet or a movie star, but all I wanted to do was be a ninja. I watched karate movies and everything. I was prepared!
I can make stuffed animals! When I was little I would cut up my clothes, sew them into the shapes of animals, and then stuff them with toilet paper for me and my siblings.
I love playing softball and I can play every position except pitcher and catcher. One day I want to be able to throw a men's curve ball!
I played Fiona in the musical Shrek in middle school. It was my first play ever and I was super nervous because we had to sing. But I booked it!
When I'm a passenger it's really hard for me to stay awake in a car ride that's more than 30 minutes long. My grandpa and I drove cross country when we moved to California. It took us roughly 5 days to get here and I don't remember any of it because I basically slept for the entire time! I couldn't keep my eyes open.
I'm a Sunday school teacher at my church! I started out just as a volunteer assistant but came to love the little kids and then I was asked to teach.
I have entire books filled with poetry from when I was little up until recently that I keep on my bookshelf. I like to look back at them because many were written during crazy times in my life.
I am writing a book with my mom! My mom is one of the most creative out of my family members and we are putting our two creative minds together to come up with an awesome story! Mother daughter bonding!
When I was 11, my papa convinced me to try and catch a groundhog on the side of an interstate! He told me they didn't bite and I thought he was right. Luckily I didn't catch him to find out my papa was wrong.
I'm in love with rain, and when I came out here I had heard a rumor that it never rained. But when I went to school one day, it started pouring down rain during gym class and I danced around outside, then walked home barefoot in it.
Like Just Jared Jr. on FB