Mon, 13 July 2020 at 1:44 pm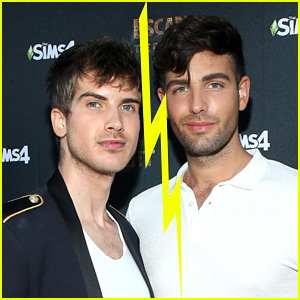 Longtime YouTube couple Joey Graceffa and Daniel Preda have broken up.
The guys announced their split with a break up video, revealing they actually parted ways back in April.
"So we broke up three months ago and we've been living together still since then. It was like the worst – not the worst time, but it was obviously not ideal timing," Joey said in the video.
"We already told a few people, and when we did tell those people, a lot of them are shocked. 'It's like you even have a perfect breakup. The fact that you guys can break up and live together, and still love each other. It doesn't have to be a big traumatic breakup where you guys hate each other.' You can end a relationship and end on good terms and still love that person. It doesn't have to be a dramatic ending," Joey added about telling some of their friends.
Joey and Daniel are parents to quite a few dogs and have decided that each will take two of the dogs, and one of them will go to live with Daniel's mom. They will also have puppy play dates and take care of each other's pups when the other goes out of town.
They also said that Daniel is moving out of their home and into his new place.
Like Just Jared Jr. on FB