Mon, 23 November 2020 at 3:03 pm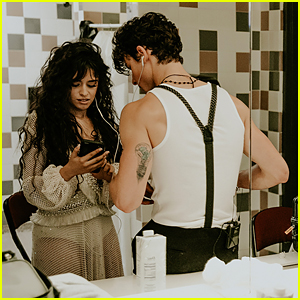 Shawn Mendes is opening up about the vulnerability in his new Netflix film In Wonder.
The 22-year-old musician shared about a certain scene with Camila Cabello that is extra special to him.
In the clip, they're rehearsing for the 2019 VMAs, and he walks away and sits down, then she comes over to him, kisses him and comforts him.
"There's this side of us that are best friends, and we've been best friends since we were like 16 years old, and I really feel like it comes across in the [film]," he says. "There's this one scene that always reminds me of how lucky I am to have her because we're at the VMAs and I'm sitting there, and I get really nervous for any award show, or pretty much anything at this point actually."
"I get really nervous because I really care, and I'm breathing, and I'm playing, and she comes over and goes, 'You know that I love you, right?' And I go, 'I know.' It's kind of like, when she says that, it's like, 'It's gonna be fine.'" Shawn said. "It's always something that brings me back to Earth."
Watch the scene below, and watch him explain it…
Like Just Jared Jr. on FB