Mon, 08 March 2021 at 5:03 pm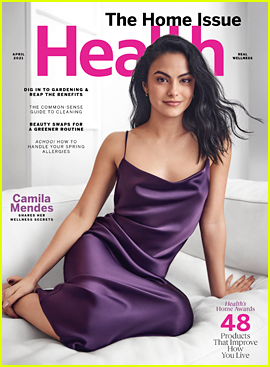 Camila Mendes dons a purple dress on the cover of Health magazine's April 2021 issue.
The 26-year-old Riverdale actress was photographed by Nino Muñoz for the cover shoot.
In the mag, Camila opens up about landing Riverdale right out of college, having panic attacks at the beginning of filming season five and more.
On taking care of her mental health: "When we first started shooting season 5, I started having panic attacks, which was strange for me. I think it was because I was in Vancouver and borders were closed—no one could visit us. You start to miss your home and your life, and you don't have your friends or community with you. I want to say, I am so grateful to be working and would never want this to come off that I am not. Taking baths helped with the panic attacks. I also learned in those moments to put down my phone and take a break from technology and get in the tub with some music on and a book. I never did that before the pandemic, and now I love that I've learned to do that for myself."
On landing Riverdale right out of college: "It's a dream—I never expected as an actress studying theater at NYU that my first gig would be so transformative. Then, there's the other side of it. When you have such a massive fan base, there are haters that come along with it. But that has actually been a good learning experience, too. It forces you to accept and get comfortable with the fact that not everyone is going to like you—and that's OK. That's a very valuable lesson to have learned early in my career."
On working in Hollywood as a Latina woman: "When I started and was auditioning a lot, it felt like either there were roles for white girls or roles for Spanish-speaking Latina women. I am born and bred Latina. I grew up in the United States and am Brazilian. I speak Portuguese. In Hollywood, at the time, it didn't feel like there were roles for people with backgrounds like mine. But now, I do think people are starting to understand that there are all different kinds of Latina women—and beyond that, all different types of people with different backgrounds and experiences. There isn't just one American experience or one Latina experience."
On slowing down due to quarantine: "In my day-to-day life, I'm a social butterfly. I love my friends and normally have to force myself to be alone. But in quarantine, I've learned how much I actually like spending time with myself. It's been nice to realize that, and I think it's something we all need sometimes. When this all started, I was in a place in my life that was go, go, go. I never imagined I'd have time to just sit and be by myself. It has really made me reevaluate priorities."
For more from Camila Mendes, head over to Health.com!
Like Just Jared Jr. on FB