Mon, 05 April 2021 at 6:50 pm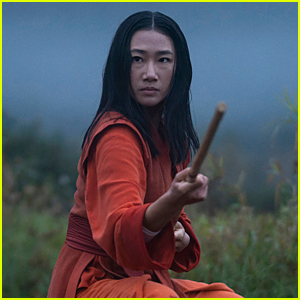 Olivia Liang is dishing on her new show Kung Fu!
The 27-year-old actress stars as Nicky Shen in the upcoming series for The CW, which follows her after a quarter life crisis causes her to drop out of college and go on a life-changing journey to an isolated monastery in China.
But when she returns to San Francisco, she finds her hometown is overrun with crime and corruption and her own parents Jin and Mei-Li are at the mercy of a powerful Triad. Nicky will rely on her tech-savvy sister Althea and Althea's fiancé Dennis, pre-med brother Ryan, Assistant District Attorney and ex-boyfriend Evan, and new love interest Henry as well as her martial arts skills and Shaolin values to protect her community and bring criminals to justice…all while searching for the ruthless assassin who killed her Shaolin mentor Pei-Ling and is now targeting her.
Olivia recently opened up about what intrigued her about this role. Click inside to see what she said…
"The pure fact that she is an Asian American woman because we as Asian American actors, we don't get a lot of those in our inboxes," she told ET. "It's usually an ethnically ambiguous character or they're open ethnicity. To have just someone who I know for sure I can represent, that's exciting in and of itself already. But as I was reading the script and the sides that were provided, I was like, 'Oh, OK, so I don't have to act at all. Nicky is just my experience.'"
"Christina wrote it so beautifully and she really captured what it means to be Asian American, first-generation, daughter to immigrant parents. Just to be seen was attractive for me. I didn't really have to do much. It just felt like a continuation of all of our experiences and the stories that we are already living out in the world," Olivia shared.
"It is both constantly in the back of my mind and I'm constantly trying to push it away," she said about being an Asian character and lead on a primetime show. "The whole cast, we talk about it a lot, you know? How historic this show is and how important it is for our community. And not just our community to feel seen, but other communities to see us and remember that we're part of their lives and their narrative too. But yeah, if we're constantly thinking about that, that would be a lot of pressure so I try to keep it away, keep it at bay and focus on telling this story that just happens to feature our faces."
In a new tweet, Olivia added that she's thankful that not having prior martial arts training wasn't a deterrent from landing the role.
"I am so grateful that martial arts wasn't a prerequisite to book the job like it has been for so many Asian actors in the past. they've invested in training me in a new skill set that i'm so PROUD to learn. MA is a rich part of our culture & i'm just 🥰🤍," she wrote on Twitter.
Like Just Jared Jr. on FB