Mon, 03 May 2021 at 6:04 pm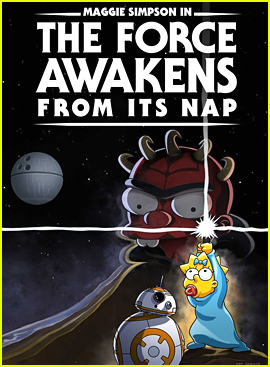 Disney+ just announced a brand new short featuring Maggie Simpson!
The youngest of the Simpsons family will star in Maggie Simpson in 'The Force Awakens From Its Nap', which will premiere on May 4th.
Here's a synopsis: In a daycare far, far away… but still in Springfield, Maggie is on an epic quest for her stolen pacifier. Her adventure brings her face-to-face with young Padawans, Sith Lords, familiar droids, Rebel scum, and an ultimate battle against the dark side, in this original short celebrating the Star Wars galaxy.
The new short is just one of the multiple new releases for Star Wars Day on Tuesday (May 4). It is also the first of several from The Simpsons that Disney+ will release throughout the year paying tribute to the service's marquee brands and titles.
Star Wars' new animated series, Star Wars: The Bad Batch, will premiere, as well as new artwork created by Star Wars fans, which is a first for Disney+.
A global group of artists and Star Wars fans have created illustrations representing an assortment of Star Wars movies and original series, bringing them to life in their own unique styles.
The artwork will be debut on Disney+ until May 9th, and will then be able to purchase on Amazon!
Like Just Jared Jr. on FB