Thu, 19 August 2021 at 2:27 pm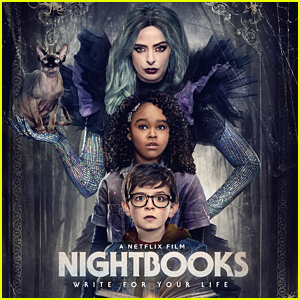 The trailer for the upcoming movie adaptation of "Nightbooks" has just been released!
Lidya Jewett and Winslow Fegley star in the new movie for Netflix, along with Krysten Ritter.
The upcoming film is based off of the book of the same name by J.A. White.
Find out more and watch the trailer inside…
Here's a synopsis: Alex (Fegley) is a creative boy with a strong passion for writing scary stories. But when he's labeled weird and rejected for what he likes, he swears he'll never write again. That's when an evil witch (Ritter), captures him in her magical apartment in New York City and demands that he tell her a new tale every night if he wants to stay alive.
Trapped inside with Lenore, the witch's spiteful cat watching his every move, Alex meets Yasmin (Jewett), another young prisoner who has learned how to survive the witch's wicked whims. With Yasmin's help, Alex must learn to embrace what makes him unique — his love for scary stories — and rewrite his own destiny to break them free.
WARNING: This movie contains some big scares and intense moments that might not be appropriate for younger viewers.
Nightbooks will be released on Netflix on September 15th. Check out the trailer below!
If you missed it, you can hear Lidya in another movie that recently came out on the streaming platform.
Like Just Jared Jr. on FB