Fri, 15 October 2021 at 3:08 pm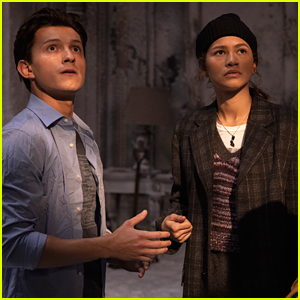 Go big or go home, right?
In a new interview, current Spider-Man star Tom Holland opened up about filming the upcoming Spider-Man: No Way Home and how it could be the end of his franchise reign as the web-slinger.
Click inside to read more…
Jon Watts has directed all three of Tom's Spider-Man movies, and for the new one, he says they really just had fun and enjoyed it.
"The first film, Jon Watts and I were sort of flying by the seat of our pants," Tom told EW. "This one, I think we both felt really confident, so we were able to relax. We actually had so much more fun on this one than we did on the previous two."
He added that there is more hand-to-hand combat, and the fight scenes are more visceral. Tom also shared that he is calling No Way Home an "conclusion" to his Spider-Man trilogy…
"We were all treating [No Way Home] as the end of a franchise, let's say," he told the site. "I think if we were lucky enough to dive into these characters again, you'd be seeing a very different version."
"It would no longer be the Homecoming trilogy. We would give it some time and try to build something different and tonally change the films. Whether that happens or not, I don't know. But we were definitely treating [No Way Home] like it was coming to an end, and it felt like it," he added about the future of him as Spider-Man.
Tom said that filming one of the last scenes with Zendaya and Jacob Batalon was really emotional, because "[we didn't know] if this would be the last time [we were all working together.] [It] was heartbreaking but also really exciting because we're all moving into the next chapter of our careers. So sharing that moment with them was maybe the best day I've ever had on set. I don't think I've cried like that ever."
We would love to keep seeing Tom continue as Spider-Man!
In case you missed it, see what Zendaya recently shared about her co-star and rumored beau as Spider-Man…
VIDEO: Check out the Spider-Man: No Way Home teaser trailer here!
Like Just Jared Jr. on FB